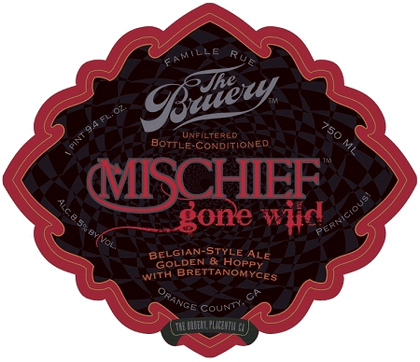 Another beer joining The Bruery's Reserve Society offerings is a spin on Mischief.  They have taken the Belgian golden ale and added in brett.
From The Bruery Reserve email:
Mischief Gone Wild — Most of you have already had our hoppy Belgian-style golden ale, Mischief, and are already familiar with it's unique character. Well, as you know, we at The Bruery get a bit bored of doing the same beers day in and day out, so we decided to introduce brettanomyces to the already mischievious equation and now, as they say, the beer has gone wild. Dryer, differently complex and really quite delicious, Mischief Gone Wild is unrestrained in just the right way.
Availability: 750ml bottles. Reserve Society members only. 4 bottle limit.
Release: April 1, 2011