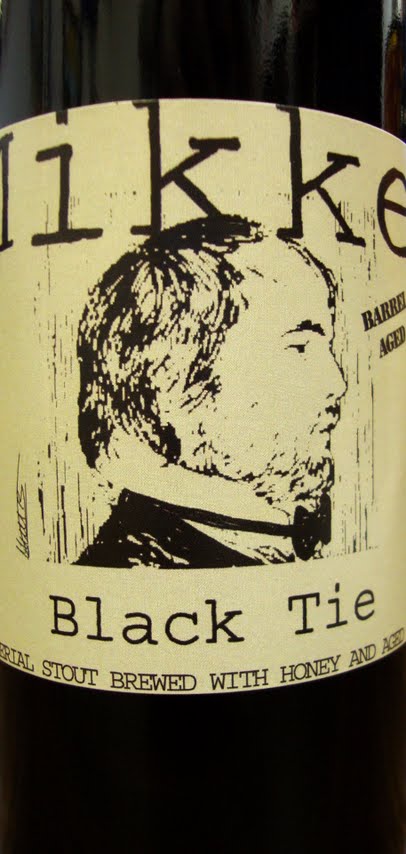 I'm a big fan of barrel aged beers.  If you are too, don't pass this one up.  It's brewed by the gypsy brewers Mikkeller, based in Denmark.  I use the term "gypsy" because Mikkeller doesn't have a brewery of their own.  Their beers are so good and have won so many awards they basically just choose a brewery and brew there.   This particular beer was brewed at Nøgne Ø in Grimstad, Norway.  Black Tie (once known as Mandeøl or Man Beer) was brewed for the Swedish market and only as draught beer. After spending four months in Scottish whiskey barrels and then being bottled it earned it's present name, Black Tie.  Black Tie is an imperial stout with honey and smoked barley. Sweet, smokey and sophisticated – slick and sexy like a black tie.
Commerical Description:
Mikkeller Black Tie is an elegant and generous imperial stout. This beer has benefited from aging in barrels. Created with the finest craftmanship for the pleasure of the connoisseur.
Style: Imperial Stout.  Barrel aged. Honey added
Taste Expectations: Dark roasted malts.  Slightly smokey.  Coffee notes. Oak & subtle vanilla.  Very complex. Lots of flavors. Might not be a beginners barrel aged stout.
Availability: 500ML Bottles.  Capped.  Low quantity.
11.5% ABV
Looking for this? Currently in stock at Green's.  Hop City this week. Have it? Leave a comment.