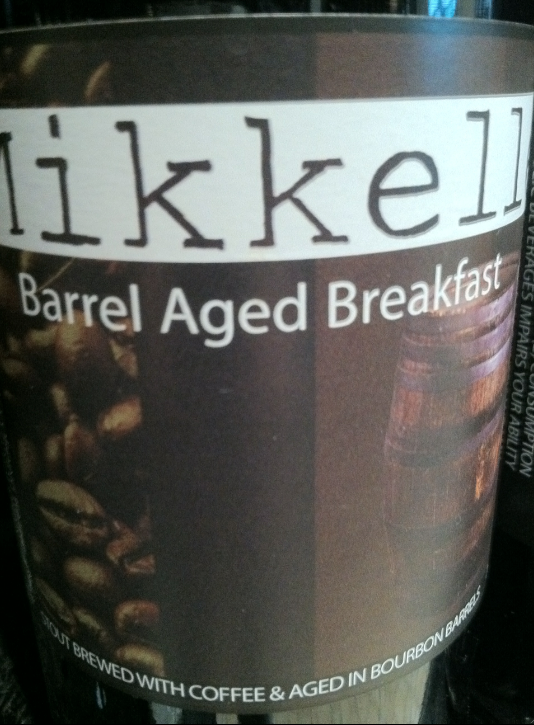 One year ago today, Mikkeller's Beer Geek Breakfast was the subject of a beer spotlight on this site.  Here a year later, a new edition has arrived in the Beer Geek series – "Barrel Aged Beer Geek Breakfast."  The popular imperial stout spent about 3 months in a second use bourbon barrel.  Brewer Mikkel Borg Bjergsø wanted to keep the bourbon moderate, not overwheming.
From The Label:
Breakfast is the most important meal of the day, and to beer geeks like Mikkeller, a hearty, complex stout is the tastiest way to begin the day.  This unique mix of oat and coffee stouts creates an intense, full bodied beer which is surprisingly balanced and full of new taste adventures with every sip.
Style: Imperial Stout, bourbon barrel aged.
Hops: Centennial, Cascade
Malts: Pilsner, Oat, Smoked, Caramunich, Brown, Pale Chocolate, Chocolate
Extras: Roasted Barley, Flaked Oats, Gourmet coffee
Yeast: Ale
Taste Expectations:  Chocolate, coffee, vanilla, oak. Bourbon. Roasty malts, sweet oatmeal feel & flavor.
Availability: 500ml bottles, capped. 180 cases shipped to U.S.
7.5% ABV