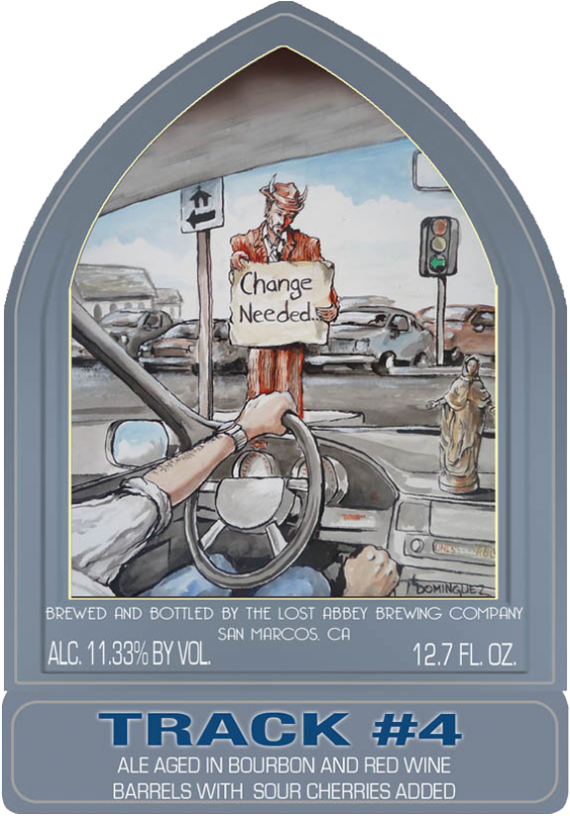 The Lost Abbey will release Track #4 "Sympathy For The Devil," the most recent release in series of musical releases this year.  (Click here for the Track List thus far.)
What is Track #4? 
Each of the the three predecessors have been various blends of barrels, and Lost Abbey beers, culminating a beer meets rock symphony that melts your face off. (Too much?) The blend for Track #4 starts with two barrels from one of the base components of 2011's Veritas 009 (Sour Ale), and two barrels of Port Hot Rocks (Aged in red wine w/ brett).  Blend it all together and you have Track #4.  The art pays homage to The Rolling Stone's Sympathy For The Devil, released in 1968.  Musical refresher course in the video below…
Liner Notes:
Another epic blend of beers not widely seen out side our tasting bar. The base for Track #4 starts off as two freshly emptied barrels which were to be part of our Veritas 009 blend. To these barrels we have married two French Oak red wine barrels that have been harboring Hot Rocks Lager for nearly two years. The base beer sports a deep black color with crimson highlights. Flavors of leather, tobacco and a wine like jammy quality were developed as the base beer.
The addition of Hot Rocks Lager aged in Wine barrels brings a strain of Brettanomyces not normally found in our beers (wine strain we found in the barrels as we did not inoculate them here at the brewery). As is our hope for all these blends, the sum of all the parts has yielded great results. Perhaps one of the more subtle yet harmonious blends to date for our brewers, this one promises to deliver another great Lost Abbey experience.
Style: American Wild Ale (Wine Barrel Aged, w/ Cherries)
Availability: 12.7 oz bottles. (Consumed on site only) $15/bottle.
11.33% ABV 
Note: Framboise de Amorosa releases the same day.  Check out Lost Abbey's notes on the release if you're going.