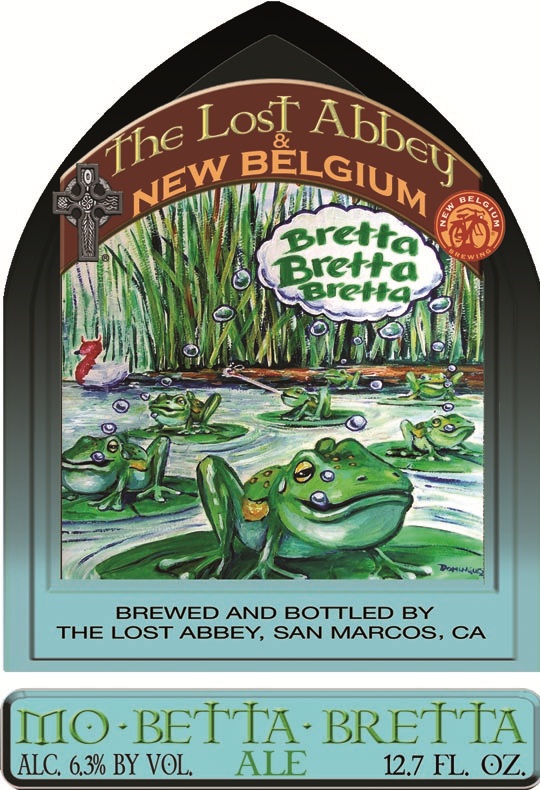 Mo' Betta Bretta has officially hit the streets starting in both California (Lost Abbey) and Colorado (New Belgium) where the collaboration was brewed.  This isn't the first release of this collaboration beer either.  It was brewed by the pair once before, circa 2004. Notice the allusion to some pretty famous beer frogs of the past…
On the Imagination River live some very curious Bullfrogs.  Rumor has it they LOVE funky and wild beer.  But it wasn't alway this way.  Like most her drinking frogs they started out drinking mass produced beer.  And for the most part, each was content drinking this her.  But then a new frog took up residence next door.  He embraced funk and his inner wild child.  
One day while lounging on the lily pads, he broke out a special bottle of Mo Betta Bretta a delicious blonde ale with a decidedly 100% wild fermentation carried out by Brettanomyces.  Everything changed that day.  Now when you get close to the reeds and listen you can hear them croaking in unison… Mo Betta Bretta.  And for that, we're thankful these frogs have great taste in beer. 
Style: American Wild Ale
Availability: 12.7 oz bottles, corked & caged
Released: 6/16/12, at Lost Abbey
6.3% ABV 
Video on the collaboration…