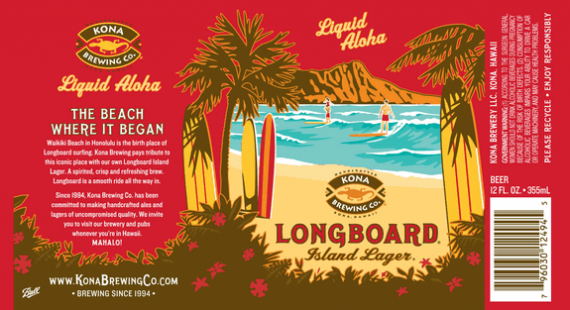 Kona in a can is a no brainer.  Hawaii, beaches, no glass.  Coming in Mid-March 2012 – Longboard cans.  All markets will receive cans, plus the newest Kona markets – Pennsylvania, Delaware and southern New Jersey.
According to Kona Brewing president Mattson Davis, the can's enhanced portability as a take-along is especially beneficial to Kona beer drinkers who enjoy rewarding themselves during outdoor pursuits. "Cans are lifestyle-friendly for the Kona consumer, who's more likely to take us to the beach, hiking or snowboarding in the mountains, paddling their local lake or river, or any other time where glass bottles aren't the best way to go. Now they'll have a lighter, more compact way to take our beers along."
The can debut will be at Kona Brewers Festival on March 10, 2012.  On shelves in the 50th State by March 12th.   Cans will be year round.
Style: American Pale Lager
4.6% ABV