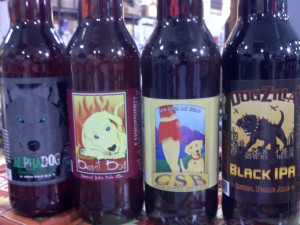 Theres a new brewery hitting shelves in Atlanta.  To be perfectly honest, they have been here a few weeks.  These bottles have been on shelves for a bit at Total Wine.  Long story short, Total Wine had some exclusivity with the distribution.  In the State of Georgia, it's illegal to have that exclusivity.  So with that said, more places can pick up Laughing Dog Brewing from Ponderay, Idaho.
History:
At Laughing Dog Brewing, what began with a dream for brews with more hops has turned into an insatiable desire to craft beers of all flavors, with a focus on quality, purity, and fun. Today, Laughing Dog brews has brewed over 15 distinct beers, including seasonals like our Huckleberry Ale and Winter Ale, and our award-winning IPA's and Stouts. But despite our success and growth, our motto remains the same as the day we started, to create… "Fetchingly Good Beer"!
The laughing Yellow Lab that appears on all of our brews, our logo, and other items is Ben our family dog. His loyal and relaxed attitude, appetite for quality food, and constant desire for walks to complete his healthy lifestyle has served as the perfect inspiration for all our brews at Laughing Dog Brewing.
But of course, Ben can't write or run the business of a brewery or due to health and safety regulations even be in the clean areas of the brewery, so his "owners" Fred Colby and Michelle Douglass are really the ones behind the curtain making it all happen. The three often discuss their new ideas for brews and flavors, and Ben gives his OK by one bark, or a NO by two barks.
At some point, Ben plans to retire from brewing, and he will pass the torch onto his son Ruger to make the day-to-day barks of approval. But be warned, Ruger is already the inspiration for Devil Dog, a fiesty brew with a full bite, so there may be a few more "exotic" brews in the future at Laughing Dog Brewing.
Laughing Dog Brewing Owners Ben (the dog), Michelle Douglass and Fred Colby hope that you enjoy drinking our beers as much as we enjoy making them.
Beers now available in Georgia:
Dogzilla Black IPA – 6.9% ABV.  Floral & Citrus hops.  Caramel, toasted malts.  Bready, black, hoppy.
Alpha Dog – Imperial IPA, 8.7% ABV.  Hops are grapefruit & pine.  Malty backbone.  Walks the line on balance.
Devil Dog – Imperial IPA, 10% ABV.  DIPA that is hoppy, bitter, but balanced.  Pine and sweet caramel malts.
CSB – ESB, 5.4% ABV.  Light citrus hops. Roasted malts.  Some bready malt.
Pale Ale – ?? ABV.  Hoppy pale ale.  Citrus hops.  Light pale malts.
Availability: Most are year round offerings, 22oz Bottles.  No draft in Georgia currently.
Looking for these? Hop City and Total Wine