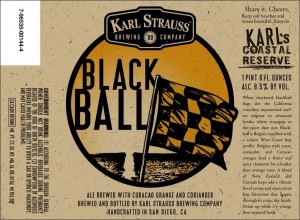 Press Release From Karl Strauss Brewing about a new Belgian IPA hitting shelves soon.
San Diego, CA – March 31, 2011- Karl Strauss Brewing Company is at it again with their much anticipated release of Blackball Belgian IPA. This innovative addition to the Karl's Coastal Reserve Series joins the ranks of Big Barrel Double IPA and Whistler Imperial Pils as another example of a beer that redefines preconceived notions of the style. "Karl's Coastal Reserve series is our take on big, hoppy beers and we thought a spicy, fruity Belgian IPA would be a great addition to the line-up," says Paul Segura, Karl Strauss Brewmaster.
Blackball Belgian IPA began as a small test batch brewed at one of Karl Strauss' satellite breweries. Fans quickly embraced the unique blend of Belgian spice paired with an intense citrusy hoppiness. After a successful run on draft during last year's American Craft Beer Week, it was decided that Blackball was destined to go beyond the taps and into 22oz bottles. "It was really cool to see people latch onto this beer and beg us to bring it back. We love the way it turned out and we think we'll turn some people on to a style they might not have tried before," says Segura.
This Belgian IPA started as a Double IPA recipe and fermented with a Belgian yeast strain to impart a distinctive fruity and peppery character. In addition to using the spicy Belgian yeast, Blackball Belgian IPA was brewed with a hefty dose of coriander and Curacao, giving the beer an added layer of complexity. The 8.5% ABV brew was then dry-hopped with a blend of Cascade and New Zealand hops creating a tropical aroma and citrus hop bitterness that lingers through its crisp, dry finish.
"When you take the first sip of Blackball you get hit with a ton of hop bitterness that gives way to a peppery, Belgian finish," says Segura. "And the nose on this beer is citrus and mangoes with hints of orange blossom." The robust fruitiness and lingering bitterness make Blackball an excellent choice to pair with spicy dishes, citrus salads, and delicate seafood.
Named for the checkered flags that dot the San Diego coastline, Blackball Belgian IPA is available April 1, 2011 and will be distributed in 22oz bombers and on draft throughout Southern California. The suggested retail price for the 22oz bottle is $5.99 to $7.99. Get this one while you can, as we recommend enjoying this hoppy beer at its freshest. For more information, visit www.karlstrauss.com. Share it. Cheers.
Blackball Belgian IPA Specs:
8.5% ABV
80 IBU
14 SRM
Label Copy:
When checkered blackball flags dot the California coastline, experienced surfers migrate to advanced breaks where strangers to the sport dare not. Blackball is a Belgian-inspired India Pale Ale with a robust West Coast hop profile. Belgian ale yeast, coriander, and Curacao lend a fruity and spicy character for an ale bolder than your average IPA. A blend of New Zealand and Cascade hops add a vibrant floral aroma and clean citrus hop bitterness that lingers through its crisp, dry finish. Drink up while it's young, heavily hopped IPA's are best enjoyed fresh.
About Karl Strauss Brewing Company
Karl Strauss Brewing Company is celebrating 22 years of brewing in San Diego. From humble roots, a big vision, and the desire to share handcrafted beer with America's Finest, Karl Strauss has grown from one brewery restaurant to a local institution–brewing 34,000 barrels in 2010 and operating six successful brewery restaurants across Southern California. The company has not strayed from its pioneering roots with new releases like Big Barrel IIPA and Whistler Imperial Pils, while still capturing hearts and the 2010 WBC and GABF gold medals for long-time favorites like Red Trolley Ale. With distribution solely in California, Karl Strauss is ranked #40 on the list of the country's top craft breweries. For more information visit http://www.karlstrauss.com or call the brewery at (858) 273-2739.
http://twitter.com/karl_strauss
http://facebook.com/KarlStraussBrewingCom