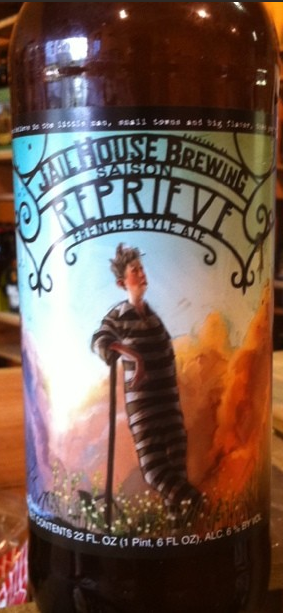 Jailhouse Brewing has released the first beer in their "Trustees Series" – Reprieve.  The Trustees Series will feature seasonals, 4 in all. Smokey Wheat will be joining the series, including a new one called Conjugal Visit, slated for summer.
Brewed with 100% floor malted grain this is a single malt, single hop, beer made in the French Saison style.

Reprieve will be a light, refreshing, beer with complex aromas and a nice malt character. Targeted to be a sessionable beer to enjoy while relaxing in the comforts of spring weather. A Reprieve from the cold if you will.
Style: Saison
Taste Expectations:  Light citrus aroma, with a dry finish.  Vinious tart finish, spicy notes. Bright & easy drinking.
Availability: 22oz bombers, draft. Limited seasonal release.
6% ABV
Photo: @AleYeahBeer