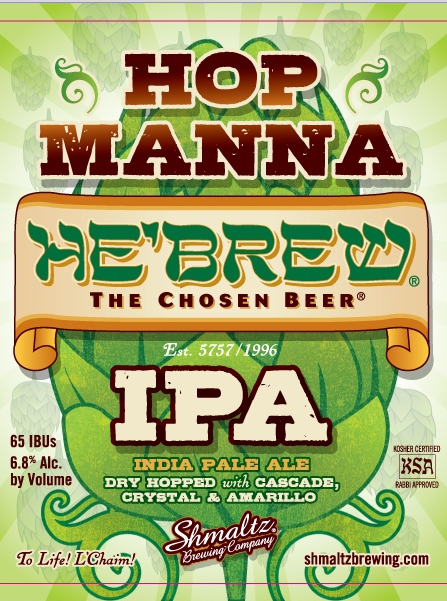 <UPDATE 4/29:> Hop Manna was made only for special brewclubs nationally & internal tastings.  Shmaltz doesn't have the capacity/time to brew this for normal distribution.  Based on it's success, you could see this beer go into distribution in 2012.
Shmaltz Brewing is soon to release Hop Manna, an American IPA.  The label indicates this IPA is dry hopped with Cascade, Crystal, & Amarillo.  Of course Manna is certified Kosher.  What's a Shmaltz label without Jeremy Cowan's amazing writing:
In the book of Exodus, the ancient Hebrews survived 400 years of bondage before the ultimate supreme court dropped the 10 deadly Plagues on the land of the taskmasters and its head dictator, the Pharaoh.  Even then, only the begrudgingly, did he Let My People Go.  The freedom ride across, nay through the sea left a band of wandering nomads broke and suffering, no doubt with a mighty thirst and profound hunger.  Enter the Manna: a glorious gift to nourish body and soul.  Manna was said to combine the tastes of everything delicious to each person, depending on the desires of the one experiencing it.  And as the Good Book says, Each shall gather according to one's need and shall enjoy a double portion to get through thy chosen day of rest.  Manna fed the entire tribe, but tradition suggests the righteous received manna ground in a heavenly mill, wile the wicked had to grind it below for themselves.  Perhaps we'll let the brewers decide who's been naughty or nice…
Hear o'Tribe of Shmaltz…Behold! A celebration of the flower of the craft beer revolution! A golden opportunity to feed your inner hop head and rejoice in Hop Manna, our newest delicacy of the modern He'brew Beer family.  L'Chaim!
Style: American IPA
Availability: 22oz bombers.
6.8% ABV
65 IBUs