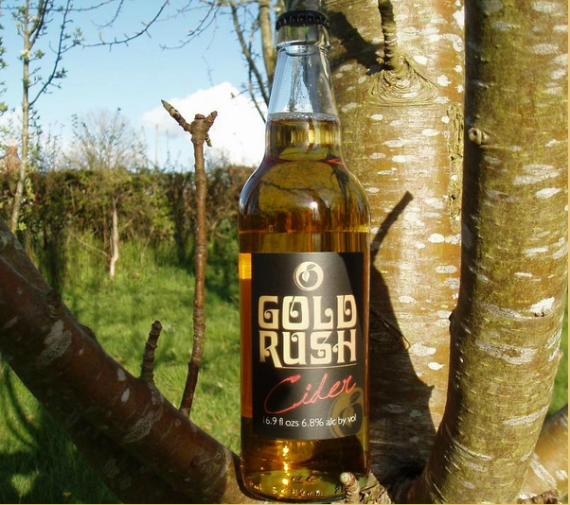 The First Transatlantic Cider Collaboration From
Tom Oliver of Oliver's Cider and Perry and Gregory Hall of Virtue Cider
Belchertown, MA [July 12, 2012] – Collaborations are all the rage nowadays but this is special and a first. Tom Oliver from Oliver's Cider and Perry in Herefordshire, England has joined forces with Gregory Hall from Virtue Cider in Chicago, Illinois to create a cider that combines their respective skills in the making of craft cider and craft beer. The result is Gold Rush, the first transatlantic cider that is everything a bittersweet cider should be.
The genesis for the collaboration occurred in the spring of 2011, during one of Hall's visits with Oliver at his farm in England, shortly after Hall stepped down as Brewmaster at Goose Island Brewing Company to embark on his own cider venture, Virtue. Both Oliver and Hall had been fans of the others work for years, in cider and beer, respectively and thought it would be fun to collaborate on a cider. Oliver embarked on the project and Hall returned to England in May of 2012 to sample the cider. And voila! Gold Rush was christened.
Gold Rush is available in the US through Shelton Brothers, an importer of small batch, artisanal, hand-crafted cider and beer.  Shelton Brothers has been the exclusive importer for all Oliver's ciders and perries since they were first introduced to the US in 2007.  Gold Rush was released by Shelton Brothers at The Festival, a gathering of international beer and cidermakers, which they hosted in Worcester, MA the weekend of June 23-24, 2012. Gold Rush is now available nationwide through the Shelton Brothers' distribution network.
The 6.8% sparkling, medium dry cider with a deep, burnished color was made from 100% bittersweet and sharp vintage cider apples from traditional Herefordshire farms. The juice was slow fermented by wild yeasts in old oak barrels through a cold winter and underwent malolactic fermentation in the warm spring.  Oliver then added fruit sugar and lambic yeasts for a second alcoholic fermentation, adding a touch more alcohol and complexity. It was finished in oak, for maturity, before final blending and bottling.
# # #
About Gold Rush
Gold Rush is a sparkling, medium dry cider with a deep, burnished colour. A nose of apple skins, spice and leather and a rich bittersweet taste, long lasting with a full mouthfeel. At 6.8%, this cider is made to be savoured and enjoyed with friends.
Gold Rush was 18 months in the making, open a bottle and let time stand still as you enjoy this unique drink. A transatlantic collaboration between two cidermakers who are dedicated to making the best.
Gold Rush was launched by Tom Oliver and Virtue Cider at Shelton Brothers international festival of small brewers and cidermakers, The Festival, on the 23rd-24th June at The Mechanics Hall, 321 Main Street, Worcester, MA.
About Tom Oliver & Oliver's Cider & Perry
Tom Oliver can trace cidermaking back through three centuries on his farm in Ocle Pychard, England. He relishes living in the premiere bittersweet cider apple growing area in the world and is one of a growing band of cider makers who see a world ripe to embrace the drink again.
www.oliversciderandperry.co.uk
About Gregory Hall and Virtue Cider
Virtue Cider Co-founder Gregory Hall served as the Brewmaster of Goose Island Beer Company from 1991 to 2011. In his two decades of brewing, Hall developed a host of award-winning beers and is hailed as an innovator in the craft beer movement.
Hall first fell in love with cider during a tour of English breweries in 2000. Upon leaving Goose Island, Hall embarked on a pilgrimage of cider study. He toured and tasted at top cider makers in England and France, including an intensive internship at Domaine Dupont in Normandy, France. It was on one of these pilgrimages that Greg and Tom started talking cider.
Virtue Cider is a Chicago-based craft cider company that uses their expertise in modern craft fermentation and aging techniques to produce ciders that embody old world farmhouse styles. They partner with local family farms to find the highest quality heirloom apples for their cider.
About Shelton Brothers
Shelton Brothers, Belchertown MA   There's no miracle to importing good beer – it just takes hard work and a lot of travel.  We generally seek out un-manipulated beer, looking primarily to small breweries, whose craftspeople take seriously a passion for natural, traditionally-made beverages.  When it was founded in 1996, Shelton Brothers was the only importer with these specific criteria for hand-selecting the beer to offer our customers.  In the past sixteen years, we've turned down countless breweries – both large and small – who didn't meet these criteria, and we'll do it again.  We're only interested in bringing you what we believe is the very best