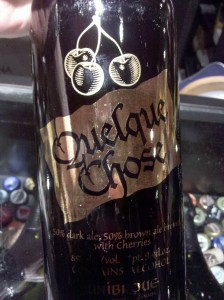 Here is a brew that challenges your accepted notion of beer.  For most, beer is served cold in a glass or even out of the bottle.  Acceptable for most beers all things considered.  Just pouring Unibroue's Quelque Chose into a glass is just one of the options for this beer.  Quelque Chose travels to Atlanta from Chambly, Quebec and was first brewed in 1996.   The name translates literally into "Something" perhaps because this beer really IS something.  It's versatile, and can be served as a normal chilled pour, hot (160 F) or over ice as an aperitif (short drink served as an appetizer.)
Quelque Chose is officially classified as a fruit/vegetable beer and uses a top fermenting ale yeast.  Lots of wild dark cherries are added to this beer.  They are soaked in a slightly bitter beer base prior to being blended into the final batch. Roasted dark malts round out Quelque to give you a roastly, sweet and sour cherry experience.  However, this beer is a fun one to experiment with.  The flavors you note will change with each way you drink it. So be sure to try it out and see how the favors change.  (On ice, cold pour, hot.)  To heat I suggest a saucepan.  You get more aroma as your warm it.  Quelque Chose was developed as a warm drink for cold winters.
Quelque Chose is back for its limited engagement in 750 ml corked bottles, around $10 dollars a piece.  Highly doubtful that this beer will find its way to tap handles, but if it does trust me I'll let you know.
8% ABV