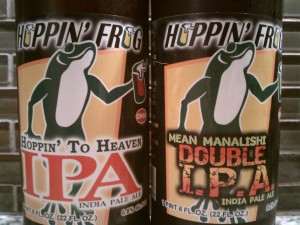 A little over a week after Hoppin Frog's big launch in Atlanta, 2 more offerings have shipped making a total of 6 available now.  The follow up offerings are IPA's, and are 2 of a 4 IPA's offered by the brewery.
Hoppin to Heaven – IPA, 6.8 ABV.  American IPA, that is both spicy and citrusy.  Full of American hops to build a solid IPA offering on.  Year round brew.
Mean Manalisihi Double IPA – 8.2% ABV.  Big time additions of hops make this a big DIPA in both aroma and palette.  Caramel malts round out this IPA for a delicious, complex offering by Hoppin Frog.
Availability – 22 oz Bomber bottles.  Draft (all though no draft spottings yet.)  Year Round.   Retail $8-10 per bomber