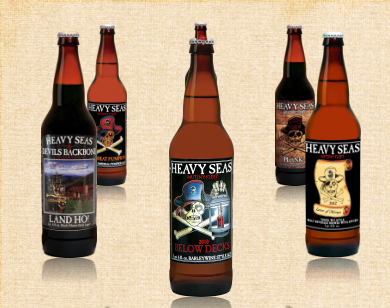 Starting in 2013 – Heavy Seas Beer's Mutiny Fleet will be renamed to the Uncharted Waters line. A few marooned beers from the Mutiny Fleet will return, influenced by wood and barrel aging.
The Mutiny Fleet includes these beers (active or inactive) Aarsh Red, Dig DIPA, Hang Ten, Holy Sheet, Letter Of Marque, Prosit!, Plank I, Plank II, Yule Tide, Land Ho!, Great Pumpkin, Siren Noire, & Below Decks.
Each is available in 22 oz bombers.