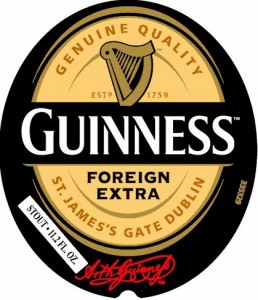 Atlanta is a test market for this rollout by Guinness Ltd. (Dublin, Ireland.) The only other test market is New York.  Actually fairly interesting if you think about it.
Honestly, I don't have a lot of details on Foreign Extra Stout – pulling info from a interview with Guinness president on Beer Advocate –
"Craft is a huge opportunity for us. We are the original craft beer, but we haven't marketed ourselves that way and that's going to change. GES [Guinness Extra Stout] has been growing for us single digits without much focus or attention other than putting it in craft sets. So there's more opportunity there. The second piece we're looking at doing is bringing in Guinness Foreign Extra Stout, which got an A- on BeerAdvocate.com. We are currently testing that in New York and Atlanta. We're looking to roll that out. It has a higher ABV of 7.5 and a hoppier taste, and so it plays right into those types of craft beers."
Availability – Arriving in Atlanta today – 5/14.   Year round brew. Atlanta is a test market for this beer.
7.5% ABV