Topic Archives:
Export Stout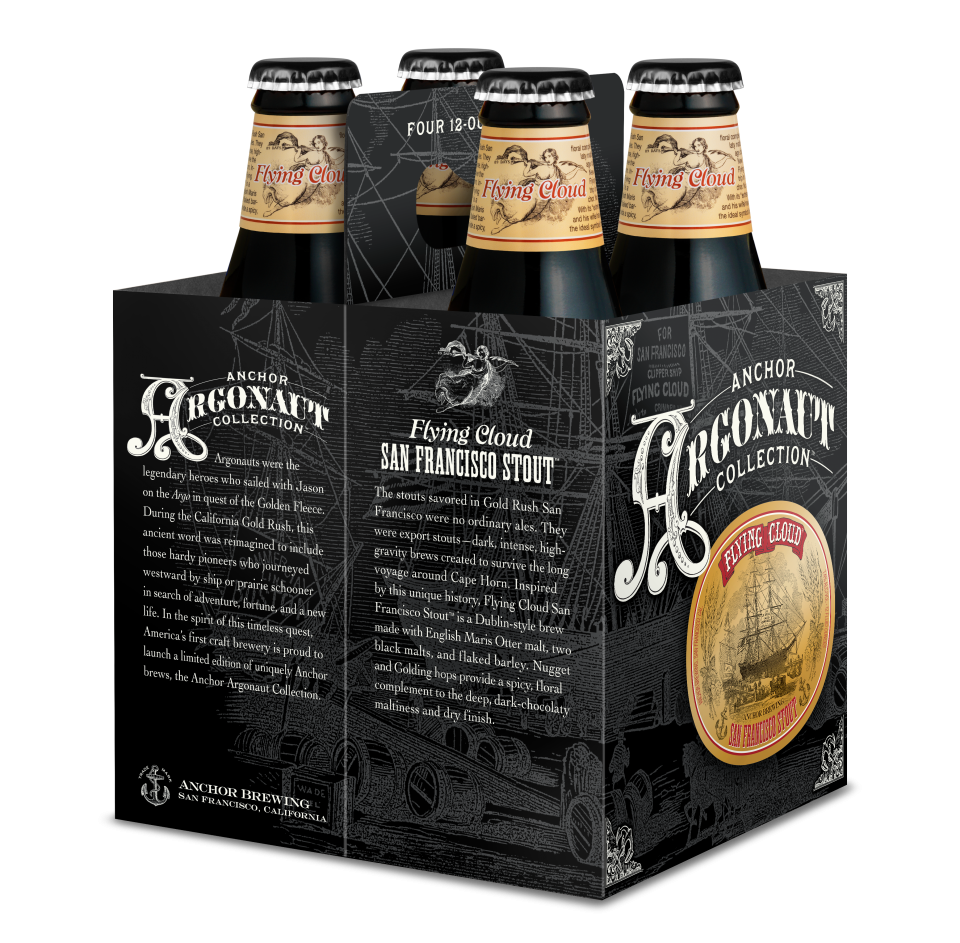 Anchor Flying Cloud San Francisco Stout returns to the brewery's lineup once again. Flying Cloud is an export stout, brewed stronger to hold up over a long journey. You'll also remember it at Zymaster Release #3.
A ship and a journey is where Flying Cloud San Francisco Stout gets its name. In 1851, the Flying Cloud ship sailed from New York City around Cape Horn (the southern most part of Chile) to San Francisco in just 125 days, 21 hours. Let's assume the beer made it all the way too.
The stouts savored in gold rush San Francisco were no ordinary ales. They were export stouts – dark, intense, high gravity brews created to survive the long voyage around Cape Horn. Inspired by this unique history, Flying Cloud San Francisco Stout is a Dublin-style brew made with English Maris Otter malt, two black malts, and flaked barley. Nugget and Golding hops provide a spicy, floral complement to the deep, dark chocolatey multi nice and dry finish. The average clipper took 125 days to sail from New York to San Francisco but not Flying Cloud, which, in 1851, made the trip and 89 days, 21 hours, anchor to anchor. No other ship sailed it faster until 1989. With it's "extreme" design, it's Capt. Josiah Creesy and his wife/navigator Eleanor, the Flying Cloud is an ideal symbol for this distinctly delicious brew.
The 235 foot Flying Cloud clipper ship was built in Boston, Massachusetts for $90,000 dollars. Anchor Flying Cloud San Francisco Stout will be available in 12oz bottles, and draft. (And will make it to the east coast if FAR less time.)
This release kicked off the brewery's Argonaut Collection last year.
Style: Export Stout
Availability: 12oz Bottles, Draft
Return: March, 2016
7.4% ABV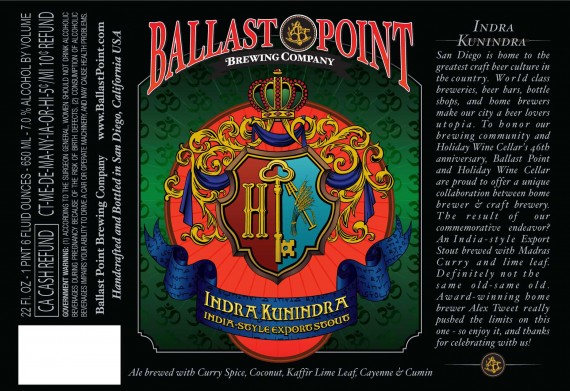 Ballast Point will be offering a very special San Diego collaboration with an Indian flair.  Indra Kunindra is brewed in celebration of Holiday Wine Cellar's 46th year of buisness, established in Escondido, California in 1965.   The stores logo is depicted on the label front.  This export stout boasts some spicy ingredients, including curry spice, coconut, kaffir lime, cayenne & cumin.
Label:
San Diego is home to the greatest craft beer culture in the country.  World class breweries, beer bars, bottle shops, and home brewers make our city a beer lovers utopia.  To honor our brewing community and Holiday Wine Cellar's 46th anniversary, Ballast Point and Holiday Wine Cellar are proud to offer a unique collaboration between home brewer and craft brewery. The result of our commemorative endeavor?  An India-style Export Stout brewed with Madras Curry and lime leaf.  Definitely not the same old-same old.  Award winning brewer Alex Tweet really pushed the limited on this one – so enjoy it, and thanks for celebrating with us!
 Availability:  220z bombers
7% ABV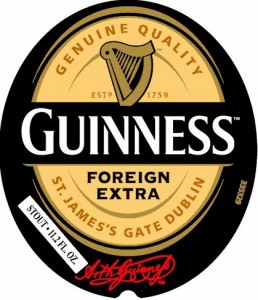 Atlanta is a test market for this rollout by Guinness Ltd. (Dublin, Ireland.) The only other test market is New York.  Actually fairly interesting if you think about it.
Honestly, I don't have a lot of details on Foreign Extra Stout – pulling info from a interview with Guinness president on Beer Advocate –
"Craft is a huge opportunity for us. We are the original craft beer, but we haven't marketed ourselves that way and that's going to change. GES [Guinness Extra Stout] has been growing for us single digits without much focus or attention other than putting it in craft sets. So there's more opportunity there. The second piece we're looking at doing is bringing in Guinness Foreign Extra Stout, which got an A- on BeerAdvocate.com. We are currently testing that in New York and Atlanta. We're looking to roll that out. It has a higher ABV of 7.5 and a hoppier taste, and so it plays right into those types of craft beers."
Availability – Arriving in Atlanta today – 5/14.   Year round brew. Atlanta is a test market for this beer.
7.5% ABV