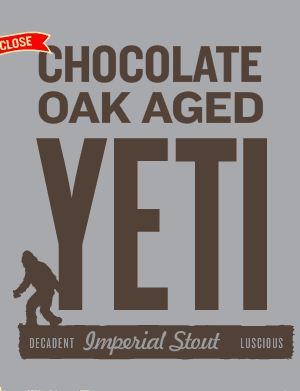 Chocolate Yeti! Chocolate Yeti! Chocolate Yeti!  With much excitement, Great Divide Chocolate Oak Aged Yeti has returned!  It's been too long since this Yeti has visited.
Chocolate Oak Aged Yeti is an imperial stout.  Great Divide scaled back the hops in order to allow the cocoa nibs to take a lead roll.  This stout is aged in America oak, which adds vanilla notes to the brew.  Cocoa and vanilla sound good?  Thought so.  As a finishing touch, the brewers at Great Divide added a bit of cayenne just to keep your tastebuds on their toes.  You'll find this imperial stout to resemble a chocolate bar, with a touch of complexity.  (The spice is subtle, but over all fun to find.)
Availability -April – May in 22oz bomber bottles – estimated retail $10.  Also draft offerings, but a bit hard to come by.
9.5% ABV
Cellarability – Chocolate Yeti drinks very well now, and is fantastic with a years age.
Food Pairings – As recommended by the brewer – Raw oysters, grilled NY strip, chicken mole, Roaring 40's blue cheese,crème bruleé, chocolate raspberry mousse cake.