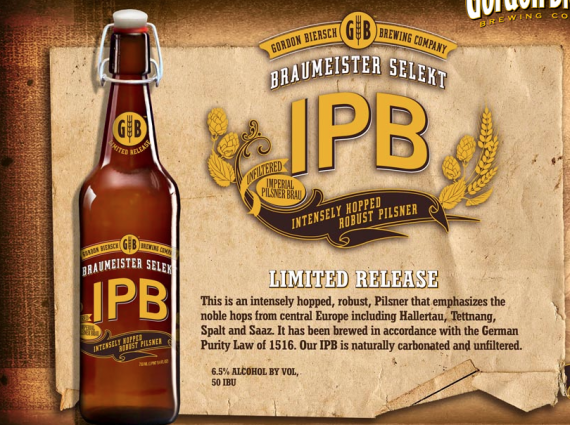 Gordon Biersch has announced the addition of a 750ml program.   A series of brews, limited to 4,000 cases or less.
Imperial Pilsner Brau (IPB) Is First Up.
"This is a beer unlike any other made before," says Gordon. "We designed the IPB to pique the curiosity of the IPA drinker, and we hope to capture their palate preference with the unique, authentic flavor that is completely its own. This concept is all about innovation and beer creativity."
Swing Top Bottles Imported From Germany
The brewing process takes place at the San Jose brewery and is topped off by hand with the addition of historic German swing-top enclosure, which dates back to the late 1800s. 
More On IPB
IPB is an intensely-hopped, bold Pilsner that emphasizes the noble hops from central Europe: Hallertau, Tettnang, Spalt and Saaz. Brewed in accordance with the Germany Purity Law of 1516, it is naturally carbonated and unfiltered. IPB is 6.5% alcohol and 50 IBU. 
Style: Pilsner
Availability: 750ml swing top bottles
Distribution Area: California, Nevada, Arizona, New Mexico, Texas, Oklahoma, Kansas, Louisiana, Alabama, Georgia, Florida, North Carolina, Virginia, Ohio, Washington DC, Maryland, and Hawaii.
Arrival: May, 2012
6.5% ABV