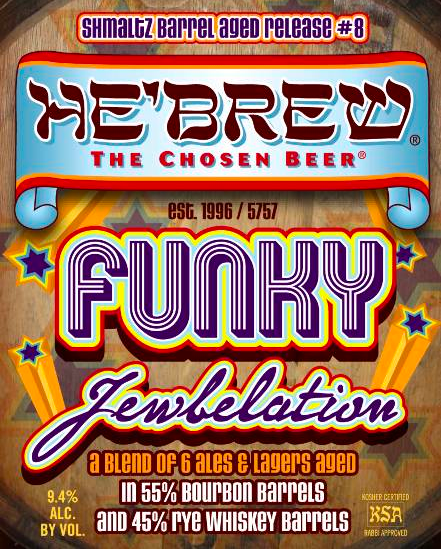 It's about the time of year again! Funky Jewbelation from Shmaltz Brewing returns for 2013 featuring a blend of six ales and lagers from the Shmaltz beer lineup aged in bourbon and rye whiskey barrels, and hustles in at 9.4% ABV.
This year's version blends the following:
Jewbelation 15 – aged seven and ten months
Origin Pomegranate Strong Ale – aged 11 months
Bittersweet Lenny's R.I.P.A. – aged 12 months
Messiah Nut Brown Ale – aged 6 months
Coney Island Lager – aged 12 months
Albino Python – aged 3 months
This year's barrel math comes out to 55% bourbon barrels and 45% whiskey barrels.
Style: American Strong Ale (Barrel Aged)
Availability: 22 oz bottles, draft
Arrival: late February 2013
9.4% ABV