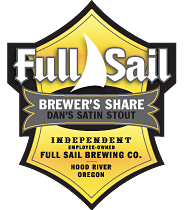 Full Sail Brewing debuts a new beer in their Brewer's Share Experimental series – Dan's Satin Stout.  Dan in this case is Dan Nakamura, Full Sail's Assistant Operations Manager.  He's intrigued by dark beer, so Satin Stout was as much research as it was fun.
What's it taste like?
Dan's Satin Stout is a creamy, dark beer with a soft and smooth finish and is complemented with the subtly sweet notes of chocolate and a hint of honey. A blend of pale, Munich, caramel, chocolate malt, and roast barley give Satin Stout its deep darkness and complex palate. Willamette and Mt. Hood hops provide just enough bitter to balance the sweet malitness; their slightly spicy aromas complement the floral notes from the addition of wildflower honey. Nitrogen conditioning is the final finishing touch providing a luscious satiny smoothness.
Dan Nakamura started at Full Sail over 21 years ago as a keg washer.  His position, like the brewery, as grown.
"I feel so fortunate to have a job I love in the place I grew up. I started my career at Full Sail as a keg washer over 21 years ago and have had the opportunity to move through many jobs at the brewery. In the process I have really gained a passion for great beer and a deep respect for the brewing art. When the opportunity to brew my own beer came up, I jumped at the chance to follow a long line of very talented Full Sail brewers. I sincerely hope that you enjoy this beer as much as I enjoyed brewing it. Cheers!" said Dan Nakamura.
There are a series of Meet the Brewer and the Beer" events coming soon. First on 2/16, 5:30 at the Tasting Room.  Next, Full Sail's Zwickelmania brewery open house. On Saturday, February 18th.
A portion of the proceeds will benefit local charity Hospice of the Gorge.  The organization's mission is to compassionately support patients and families through the end of life process.
Style: Stout
Availability: Draft only
5.2% ABV 36 IBU