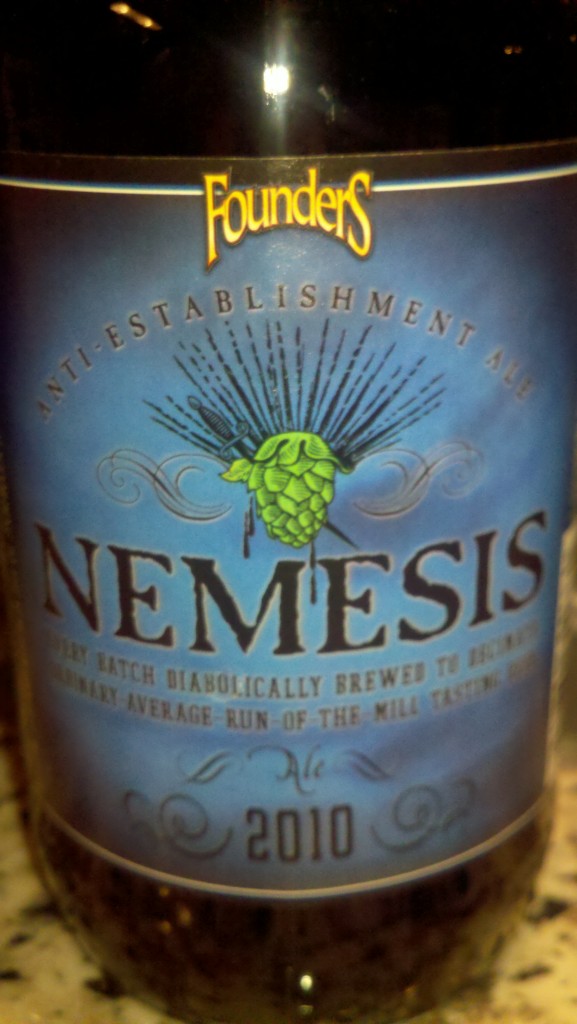 Nemesis 2010 is here!  Arriving today is Founder's Brewing's coveted 1 time annual brew. Nemesis is different every year.  Last year's nemesis was a maple bourbon barrel aged wheatwine.  This year is a big barleywine.
2010 Nemesis details –
"The 2010 release of Nemesis is best described by our brewing team as "a dark barley wine that pours black with a subtle mahogany hue. Brewed with 5 malts and no shortage of hops for a pleasantly bitter booming flavor. Roasty and toasty with a multitude of tastes that melts on your tongue". – Founders"
Style: American Barleywine
Taste Expectations: Smell is alcohol and hops.  Taste is complex, while not being heavy.  The alcohol shines for sure, but not in an overwheming way.  Caramel malts, chocolate, even coffee have been used to describe this.  Try it and sort it out!
Availability: 12 oz/4 packs.  No draft.  Est. retail – 17.99
12% ABV
Looking for this? Green's on Ponce has 65, 4 pks in stock.