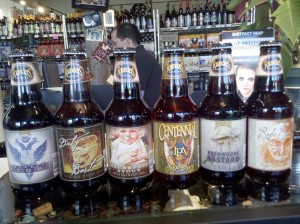 Founder's will be hitting Atlanta shelves in less than 24 hours.   Not familiar with Founder's Brewing yet?  Read HERE first!
Ok.  Now you have that out of the way,  here are beers in Founder's launch lineup —
Dirty Bastard –  Scotch Ale, 8.5% ABV.  Brewed with 7 varieties of malts.  Hints of smoke, and peat.  Finishes with a strong hit of hops in the finish.
Centennial IPA — IPA, 7.2% ABV.  Floral and Citrusy.  This IPA has been dry hopped, and has a noticeable malt backbone.
Red's Rye P.A. –  Rye Beer, 6.8% ABV.  Grapefruit tones, with slight bitter hop finish.  Dry hopped with Amarillo.  Enriched with 4 types of Belgian caramel malts and 1 type of rye malt.   Great spicy finish.
Pale Ale — Pale Ale, 5.4% ABV.  Founder's describes this as "A tribute to Cascade hops in a bottle."  Floral and citrus flavors with a balanced sweet malt finish.
UPDATE! – Breakfast Stout – Stout, 8.3% ABV.  Coffee laden stout.  Flaked oats, bitter & imported chocolates.  Sumatra and Kona Coffee.   Hints of cinnamon, especially in the head.
Also, as a VERY limited offering in the "Seasonal" category  –
Backwoods Bastard — Scotch Ale, 10.2% ABV.   Backwards Bastard is essentially the Dirty Bastard that has been aged in oak bourbon barrels.   Aromas of single malt scotch, smoke, sweet caramel, and roasted malts.  Love that vanilla flavor you get from bourbon aged beers?  You'll find it here.  Tiny hints of dark cherries.
Coming Soon – Double Trouble – Imperial IPA.  Pungent aroma hops. Bittering hops for the finish.  Nice malt balance.  9.4% ABV.
Updated price list and who is carrying it to be posted soon.