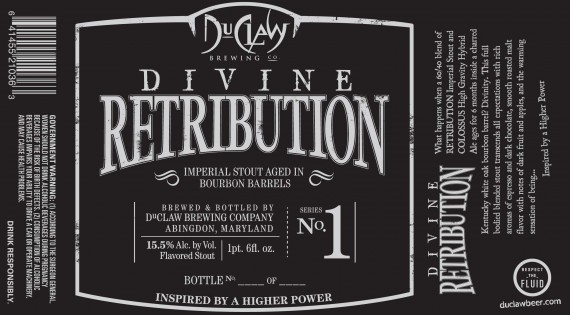 DuClaw has released an extremely limited number of 22oz bottles of its Divine Retribution Series #1 – 168 bottles to be exact.  Divine Retribution Series #1 is a 60/40 blend of Retribution Imperial Stout and Colossus that was aged in Heaven Hill Kentucky White Oak Bourbon barrels for 6 months.  It clocks in at a hefty 15.5%ABV.
Each bottle was individually numbered, finished with a textured label, and wax sealed by hand.  The labels were printed using a 100 year old Chandler & Price plate press.
Divine Retribution Series #1 is available now at select stores.
Style: Imperial Stout (Barrel Aged)
Availability: 22oz bottles, wax sealed. 168 bottles released.