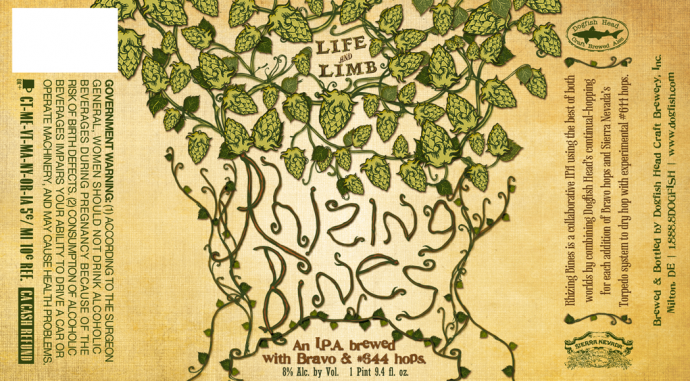 Built on the friendship they built with Life & Limb, Dogfish Head & Sierra Nevada are back at it again with Rhizing Bines. The beer is described at an East meets West IPA, incorporating the way each of the breweries hop their beer.
On the hot side, Rhizing Bines will go through Dogfish's signature continual-hopping process with floral and citrusy Bravo hops. On the cold side, it will be dry-hopped with an experimental varietal so new it doesn't yet have a name, just a number: Hop 644. A component of Sierra Nevada's aroma-boosting Torpedo system will make a pit-stop in Delaware for dry-hopping duty before it heads to Sierra's new North Carolina brewery.
In honor of Sierra Nevada headed to Ashville, Dogfish Head added Carolina heirloom red winter wheat grown at Anson Mills. Rhizing Bines is brewed at Dogfish Head in Milton, DE.
Style: Imperial IPA
Hops: Bravo, #644
Availability: 750 ml bottles. Dogfish Head's 27 State Network
Arrival: February, 2013
8% ABV
Read more: Sierra Nevada, Dogfish Head