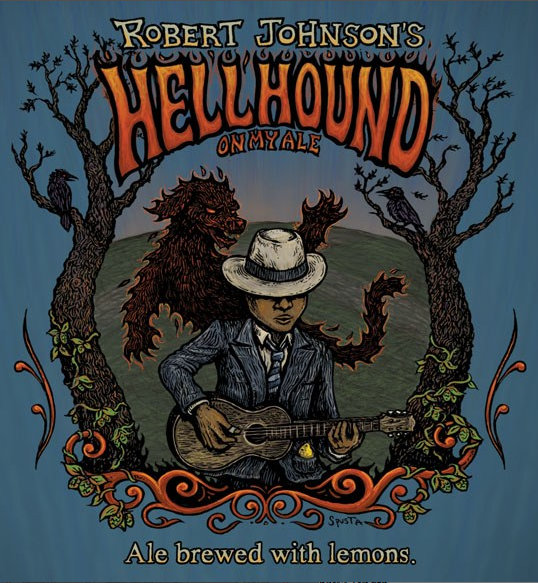 Dogfish Head has brewed up another musical offering in the same spirit of Bitches Brew with "Hellhound On My Ale."  The beer is a tribute to Robert Johnson, an amazing blues musician & guitarist.  Legend has it Johnson sold his soul to the devil in exchange for is voice & talent.  May 8, 2011 marks the 100 birthday of Johnson, who is suspected to have been poisoned at 27 years old.
What you need to know:
A collaboration with Sony, Hellhound is full of homages surround Robert Johnson's life.  Mentioned in a previous post, DFH was experimenting with lemons.  Seems Hellhound might be the result.  Why lemons? Robert Johnson's mentor was "Blind Lemon" Jefferson.  2011 marks the centennial anniversary of his birth, so DFH used centennial hops.  Hellhound is a big hoppy beer, clocking in at 100 IBU's, dry hopped with centennial hops at a rate of 100 kilos per 100 barrel brew-length.
The beer has made an appearance at the Craft Brewers Conference in San Francisco this week.  Hellhound will hit draft handles & 750ml champagne bottles in May, 2011. (Or earlier)