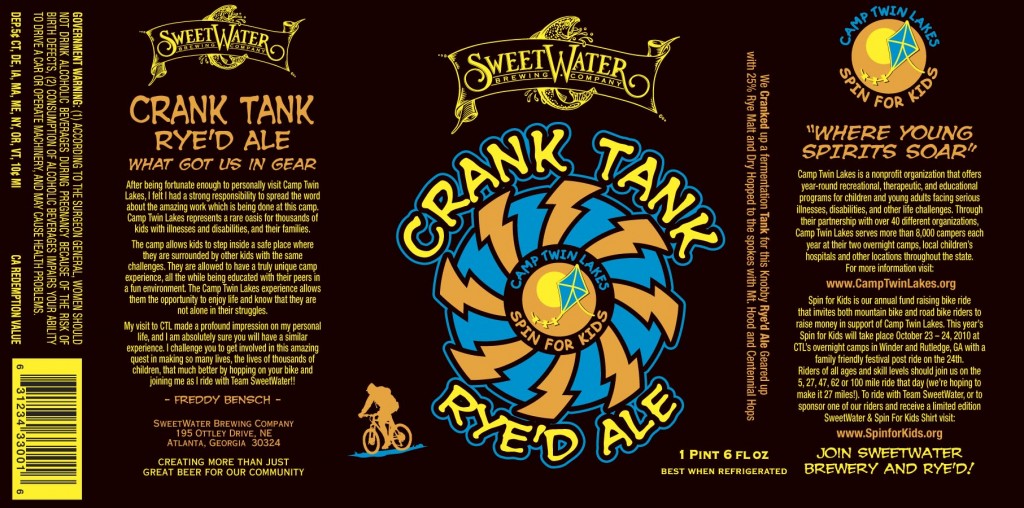 It's never too early to get excited about new beer.  Especially beer for a GREAT cause.  SweetWater has just released details about their beer coming from their now infamous Dank Tank.  It's called Crank Tank Rye'd Ale and it benefits Camp Twin Lakes based right here in Georgia.  Twin Lakes is a not-for-profitorganization that offers year-round recreational, therapeutic, and educational programs for children facing serious illnesses and other physical, emotional and life challenges.  From Sweetwater-
"SweetWater Brewing Company is inviting Atlantans to jump on board with Team SweetWater as they celebrate the mission of Camp Twin Lakes and their Fifth Annual Spin for Kids Fundraiser Oct. 23-24, 2010.  The local boys created their latest beer, Crank Tank Rye'd Ale, and established their own bike team to benefit this non-profit organization dedicated to providing children with serious illness and special needs and their families a recreational outlet.  The camp teaches children to overcome obstacles and grow in their confidence and capabilities, and SweetWater's mission is to accomplish something similar:  To raise awareness for this meaningful cause while taking on a challenge.  So, dust off that old bike, grease up the wheels (and your joints) and get ready for a ride that impacts lives.
SweetWater's Big Kahuna, Freddy Bensch, was so inspired after visiting Camp Twin Lakes, which he calls "a rare oasis for thousands of special needs children and their families," that he felt he had a responsibility to spread the word about the camp and its mission and created a new beer to get the word out.  SweetWater will feature information about the camp and ways folks can get involved on its 22oz Crank Tank Rye'd Ale labels launching early September.
"This camp made such a profound impact on my life," said Bensch.  "It provides a safe and nonjudgmental environment for children with special needs — something they can't always find in the real world.  The camp and these children will touch your heart.  We have always worked to make more than just great beer for our community, and SweetWater is proud to connect beer lovers with local organizations to make a difference."
Want to come along for the ride? Cruise with the team at Camp Twin Lakes' residential camp facilities in Winder and Rutledge, Georgia and then join in a post-race festival at the camp in Rutledge on Oct. 24th.  All ages and skill levels are invited to participate in the 5, 27, 47, 62 or 100-mile ride.  Team SweetWater's goal: 27 miles (those beer bellies will be slowing 'em down a bit!) To ride with Team SweetWater or to sponsor one of their riders — and receive a limited edition SweetWater and Spin for Kids shirt – visit www.spinforkids.org.  Can't join a team?  Buy a Crank Tank at participating establishments and enjoy a lip-smackin' brew with the satisfaction that you've contributed to a good cause.   And if all that good stuff isn't enough motivation, SweetWater will also be giving away a Giant Boulder bike to one customer. Check one out at SweetWater displays in various stores from late August until early October and sign up for your chance to win on the SweetWater team page at www.spinforkids.org."
Style: Rye Beer (I think?)
Availability: 220z Bombers.  Limited to Atlanta this year.  Potential wider distribution to other SW markets next year
Arrival: Early-Mid September 2010
6.2% ABV