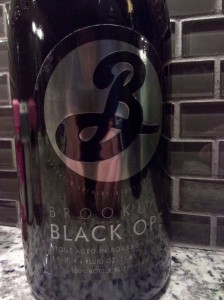 I really don't know where to begin on this one.   Better yet, here is a quote from the back of the bottle –
"Brooklyn Black Ops does not exist. However, if it did exist, it would be a robust stout concocted by the Brooklyn brewing team under cover of secrecy and hidden from everyone else at the brewery. Supposedly "Black ops" was aged for four months in bourbon barrels, bottled flat, and re-fermented with Champagne yeast, creating big chocolate and coffee flavors with a rich underpinning of vanilla-like oat notes. They say there are only 1,000 cases. We have no idea what they're talking about."
Basically, I'm talking about a rare beer put out by Brooklyn Brewery in New York.  This Russian Imperial Stout was aged in Woodford Reserve barrels this year.  (The barrels Black Ops is aged in changes.) Woodford Reserve barrels are the same kind of barrels that Sweetwater used to age their Ron W. Burgundy (Flashback Click Here.)  Black ops is a Black Chocolate Stout Aged in Woodford Barrels.  It's distinctive, and for those stout fans out there, don't miss this.
One thing to note – these bottles are limited, and are 24.99 a piece.   Hop City only has a few left. (Strike that.  Before I could finish writing this, they are all gone.) Checking to see who else will be receiving them.. More to come.
12/17 – 3:30 PM – Toco Giant on North Druid has a case.
12/18 – 11 AM – Both Tower Locations to receive.  Date TBA