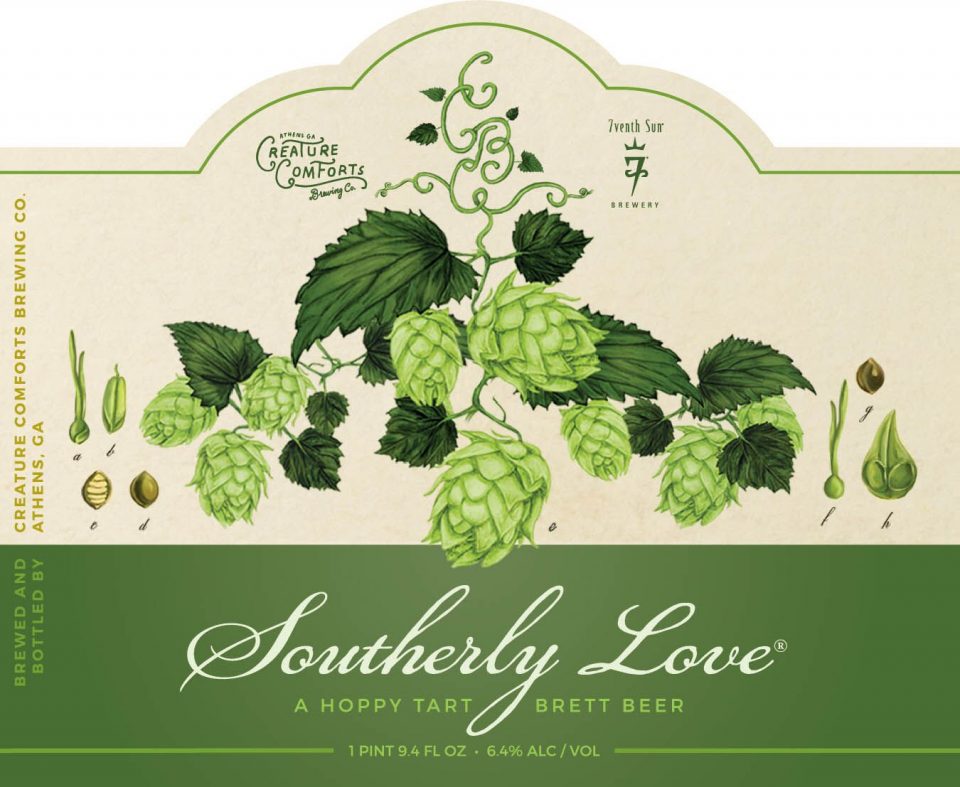 In summer 2014,  Creature Comforts (Athens, GA) collaborated with 7venth Sun Brewery (Dunedin, FL). The result of that (very warm) brewday party was Creature Comforts Southerly Love.
Southerly Love is an American wild ale, slightly kettle soured with lactobacillus and fermented with the house brettanomyces yeast blend. This January, Creature Comforts Southerly Love returns briefly to the brewery's lineup. The 2017 edition features Idaho 7, Cascade, and Crystal hops.
"We used a solid dose of funky, tropical and aromatic hops, both in the brewhouse and as a dry hop, to add complexity and intrigue to the beer. The result was a synthesis of yeast and hop flavors, melded into a balanced, cohesive and just plain delicious beer." – Co-Founder and Brewmaster Adam Beauchamp
The new label was designed by University of Georgia Scientific Illustration Student Katie Schmidt.
Creature Comforts Southerly Love will be available in 750ml bottles and draft at the brewery in Athens, Georgia on January 17th.
Style: American Wild Ale
Hops: Idaho 7, Cascade Crystal
Availability: 750ml bottles, Draft.
Latest Return: January, 2017
6.4% ABV
Posted in Cigar City Brewing, Coast Brewing, Dogfish Head, Duck Rabbit Brewery, Event Pics, Founders Brewing, Funky Buddha, Jester King Brewery, Left Hand Brewing, Mother Earth Brewing, Seventh Sun Brewing, Sierra Nevada