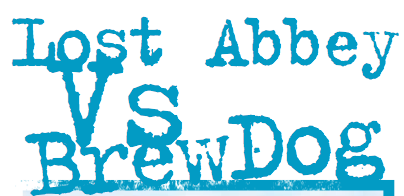 The Brewdog/Lost Abbey collaboration –  Lost Dog, will be released any day now.   This is an imperial porter aged in rum barrels.
Look for it in the Brewdog online store soon, with some headed stateside in early 2012.
We brewed an Imperial Porter, aiming for 10% ABV and using a blend of 7 different malts. In terms of hops, we keep the IBUs modest at 35 and hopped the beer entirely with First Gold. And of course this collaboration just had to be aged in oak.
We settled on some killer rum casks for the Imperial Porter. We only brewed a tiny batch of this beer and intend to age it in the rum barrels for about 12 months. So look out for the Lost Abbey & BrewDog rum barrel aged Imperial Porter coming your way