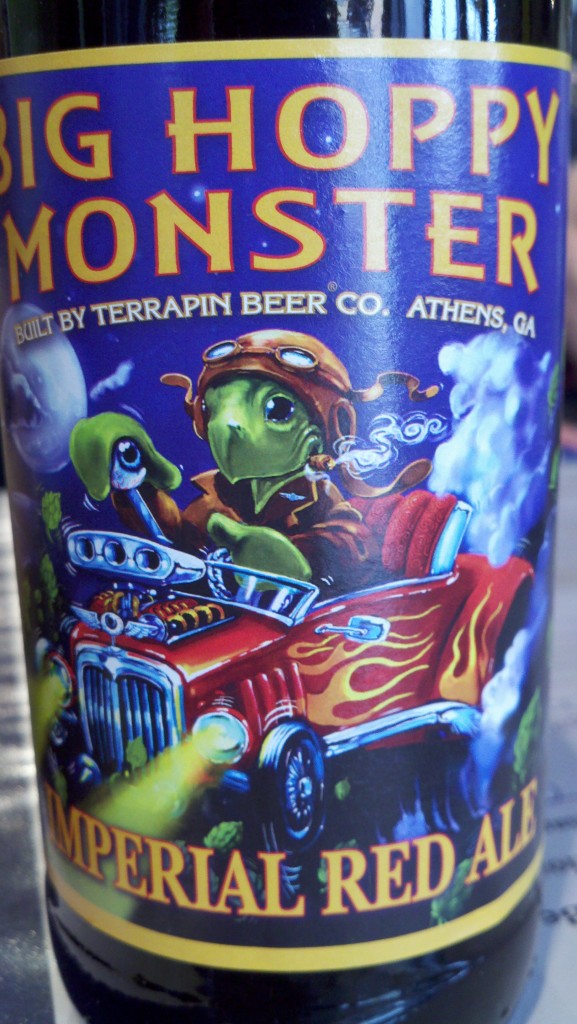 The latest seasonal from Terrapin's "Monster Beer Tour" is on shelves this week.  It's Big Hoppy Monster, back for it's annual visit.
Commerical Description:
This mammoth imperial red ale leads with a tantalizing hop aroma that is quickly complemented by an enormous malt backbone & finished with a multitude of hoppy goodness.
Beer Rundown:
Style: Imperial Red Ale
Hops: Warrior, Centennial, Cascade, Ahtanum, Simcoe (Dry Hop)
Malts: 2-Row Pale, Munich, Crystal 20, Crystal 30, Crystal 45, Crystal 77
Taste Expectations: Lots of malt flavors – toffee & caramel.  Sweet notes.  Hops are very floral.  Hint of alcohol warming.  It's a big, bold beer.
Availability: 12oz/4 pks.  Draft. Rare Cask Offerings also. Seasonal Aug/Sept annually.
Cellar? Terrapin states Big Hoppy can cellar under the right conditions up to 3 years.
8.3% ABV
73 IBU's