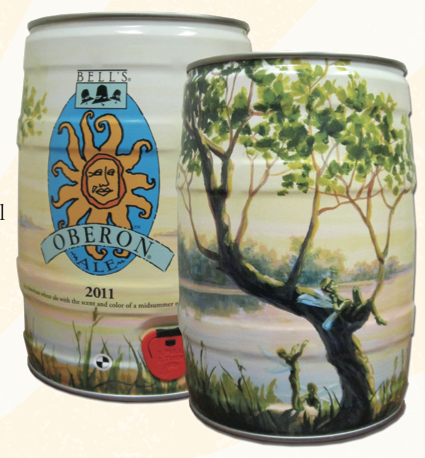 Spring is around the corner, and the means Bell's popular summer beer – Oberon. Oberon is an American Pale Wheat Ale.
Available on bottle, draft and 5 liter keg cans.  The keg cans got pretty new artwork as you see on the left.  Oberon season 2011 starts March 28th.
About Oberon:
The heart of Bell's summer lineup, Oberon Ale offers a refreshing mix of malted wheat flavor and fruity notes, wrapped up in a distinctively cirtusy hop aroma. Brewed around the concept of balance, Oberon brings a moderate bodied yet full- flavored ale to the table that complements all manner of summer activities.
Arrival: Late March 2011
5.4% ABV