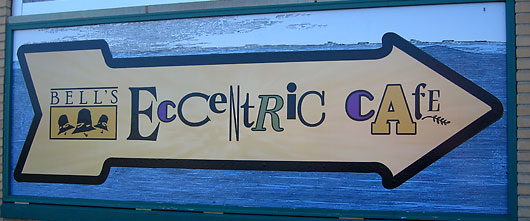 Laura Bell of Bell's Brewing has clarified more about the 750ml bottle releases.   They will be headed for the Eccentric Cafe in downtown Kalamazoo, MI.
Laura posted some clarification to a BeerAdvocate.com forum on 5/7/11:
[quote style="boxed"]We have started the label approval process for a number of different brands intended to be packaged in 750s. At this point we are just going through the approval stages and will release a "schedule" once we've decided on it. The 750s will only be available in our General Store in Kalamazoo and will not be distributed to our sales territories. As some of you know, we do not fill growlers at our pub in Kalamazoo and we want to provide a way for patrons to have the opportunity to take home some of the pub only beers… A more formal announcement of the Eccentric Cafe only 750 program will be released over the next few weeks.  Thanks!  -Laura Bell[/quote]
Currently, bombers slated for 750ml release include Sparking Ale, The Wild One, Quinannan Falls Lager, Golden Rye Ale, & Wedding Ale.  Eccentric Cafe just under went some pretty big renovations recently along side Bell's 50+million dollar expansion.