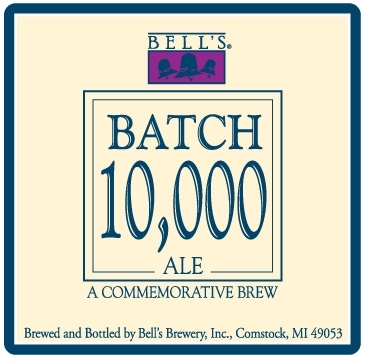 We knew batch 10,000 was arriving on the heels of 25th Anniversary being released.  The only thing we didn't know was when.   Arrival date is still not 100% known (it takes a while to ship to distributors, and then to stores)  we know now from Bell's website that it was bottled yesterday.
From Bell's:
The last in our Batch series is being packaged today and tomorrow. While we are excited to free up some brewing space for other creative projects, the end of the Batch series marks a major milestone for us, and is a little bittersweet being the end of an era. Batch 10,000 reflects our homebrewing roots and was inspired by the the last homebrew of the season. Our owner Larry Bell remembers going through his brewing supplies and making the last homebrew out of whatever malts and hops were left from his brewing months. With this being the motivation behind our last commemorative batch series beer, we combed through the catalogs of many malt and hop suppliers to source 100 different malts, grains, and other fermentables. This is balanced by the addition of 60 different hop varietals between the kettle and dry hopping. The resulting beer presents a deep, chocolate brown hue and offers roasted and caramel notes from the malts mixed with an assertive hop character. Feel free to drink it fresh, or vintage age it as you please.
We lift our glass in appreciation to Bell's drinkers who have helped us reach this moment in our brewery's history. Cheers to you!
Arrival: 2-3 weeks.