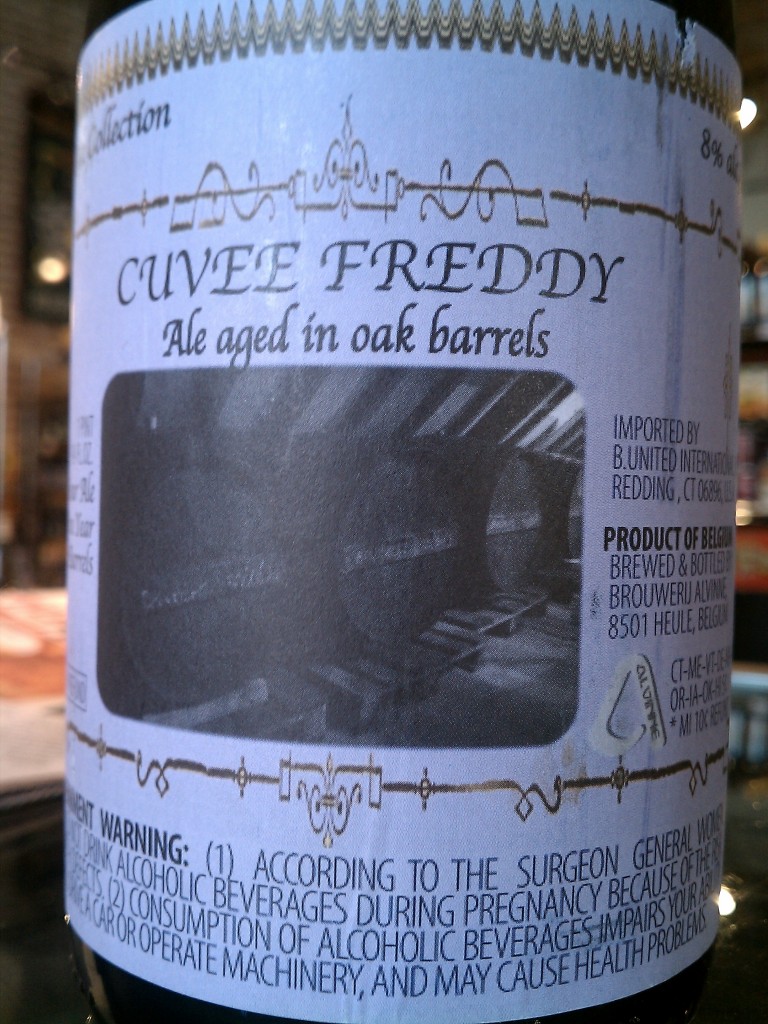 This beer might be completely off the radar for some.  It's new the the United States, and hasn't burst on the scene with a lot of fanfare.  If I had  to describe this beer – it's less for casual drinker, and one more for the individual on a flavor journey.  Cuvee Freddy is brewed by Picobrouwerij Alvinne in Heule, Belgium.  The name of the brewery comes from a female spirit that is the subject of local folktales, and appears on the labels of the bottles.  Don't be put off by the name "Picobrouwerij."  The name is a bit of a play on words.  Basically "Pico" is a scientific prefix in the metric system denoting a factor of 10−12 or 0.000000000001.  In other words VERY SMALL or… Micro brewery.  Everything has a backstory!
Alvinne began brewing in 2002 as a contract brewer through De Graal Brewery in the East Flanders area of Belgium.  They have since moved to their own digs.  Alvinne produces a fairly wide range of styles from Abbey ales, Strong ales, and oak aged sour ales.  Something to note as you read this.  Belgium is a brewery intensive country.  Other than the U.S. estimates I've read indicate that Belgium has just as many breweries, if not more.  For a small craft brewer to gain as much attention as it has, and to have its brews come as far as Atlanta, it's an impossibly big feat.
So – Cuvee Freddy.  This is sour ale aged in oak barrels.  Sour ales are brewed with wild yeasts like saccharomyces or brettanomyces, and lactic acid.   Sour ales have a really unique flavor and the style is really catching on in the states.
Taste Expectations:  Tart for starters.  Not very sour.  Vine fruits, grapes cherries.  Dark dry fruits.  Oak.  Chocolate.  Very complex beer that leads you in a lot of directions.
Availability: 750 ML capped bottles.  Retail around $18.00
9% ABV
40 IBU's
Cuvee Freddy is imported by B. United International – Redding, CT