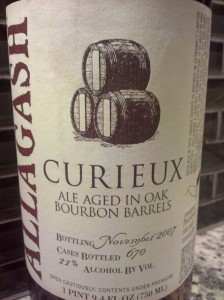 Let me start this off by saying, Allagash Brewing has always impressed me.  Furthermore, I can't honestly think of a single offering by Allagash that I didn't get excited to try, or have more of.  Today is no different.  Not only do we have an offering of the 2009 run of Curieux, but it's a cask.
Curieux (French for curious) was the first release of a series of barrel aged beers by Allagash in 2004.  Curieux starts as Tripel Ale. (The term "tripel" comes from Belgium/Netherlands.  The theory is that it refers to strength as a series of marks.  X — Weakest, XX — Stronger, XXX — Strongest.)  The tripel is placed in Jim Beam barrels and cellar aged for 8 weeks.  The 8 weeks totally transforms the tripel in Curieux.  The oak transfers some of the bourbon flavor to the beer.  Vanilla, coconut, and bourbon become prevalent after aging.  11%ABV
For those of you that haven't had this in the bottle or otherwise, its quite good.   Donald Munroe, managing partner of the Taco Mac Metropolis location sent this cask off to Allagash to have it filled.   Don't pass it up.
Bottles of Curieux are at Hop City.  13.99.  (Bottles are corked and numbered.)
Taco Mac Metropolis, 6pm (11/13/09)
933 Peachtree Street N.E.
Atlanta, GA 30309
(404) 631-6526
@tmacmetropolis (on twitter)