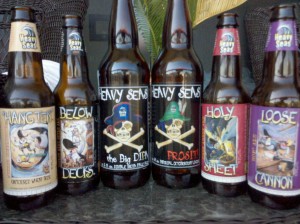 I know I've said this before, and here I will say it again.  You may know craft beer.  You may know the lineup of a brewery.  You may even be someone who can pick out the beers from a blind taste   However, until you meet the brewer and speak to him or her about brewing, you don't know it all.  Want to know it all?  Be at Brickstore Pub Tuesday night.
Hugh Sisson, founder/General Partner of Clipper City/Heavy Seas will be at Brickstore with the Heavy Seas lineup and special food pairings.
Read here on a previous write up about Hugh Sisson — http://bit.ly/zfru
First of all, its not a traditional beer dinner, i.e. no tickets need be purchased.  Just show up, order a Heavy Seas, and perhaps start up a conversation with Hugh Sisson.
Starts around 5 pm, (November 17th) until the beer runs dry.
More info follow.  Check out @atlbeermaster, @atlantabeer, & @brickstorepub for more info.
UPDATE! –  Here is the beer lineup for tonight.
Yule Tide – Cask
Winter Storm Cask – ESB, 7.5% ABV.  Hops – Magnum, Fuggle, Cascade, Centennial and Chinook.  Malts – Pale, Crystal, Carapils and Munich.
Winter Storm – Draft.  Regular offering of this ESB
08 'Hang Ten – Weizenbock, 10% ABV.  July seasonal.
Great Pumpkin Bottles – Bourbon barrel aged – Imperial Pumpkin ale, 8.5% ABV. Seasonal fall ale, with secret malts, hops, spices.
06′ Below Decks – Barleywine, 10%+.  Aged since 2006.  Traditionally offered in December.
09′ Below Decks – Barleywine, 10%.  Upcoming 2009 release of this BW.

Other bottles include –
Big DIPA – Imperial IPA,  10.6% ABV. 5 hops, 3 malts.  Released in June.  Not sold currently.
Also, – Winter Storm, & Loose Cannon
(Please excuse the terrible spacings/margins.  Trying to correct…)