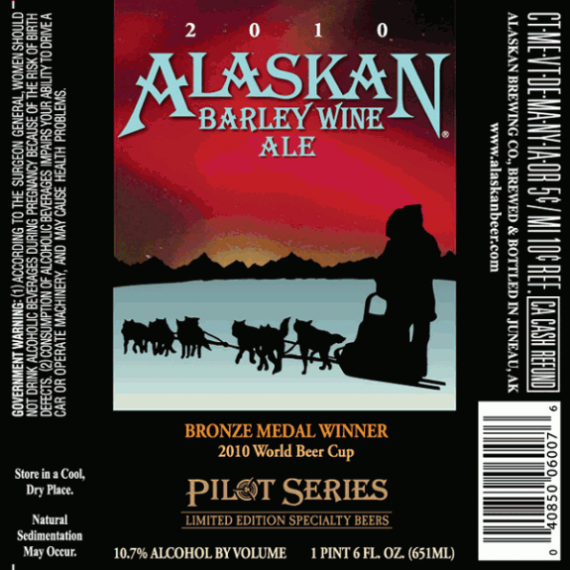 Alaskan Brewing Barleywine Ale usually hits in January, but this year (2011) it arrives today.    From their Press Release:
"One of my favorite things about our barley wine is that it is great when enjoyed fresh," says Alaskan Quality Assurance Analyst Darin Jensen. "It's a fresh and dynamic beer that doesn't need to be 'laid down' like some barley wines; you can enjoy it right away."
But while some like it fresh, the bottling of each vintage of Alaskan Barley Wine also allows individuals to age it to their liking. It is an ideal cellaring beer to collect for vertical tastings as it gains deeper malt complexity, smoothness and more dark fruit flavors over time. "The first bottle release of our Barley Wine was in 2008, so we are excited to line up and compare the four vintages to see how the flavors are developing."
The 2011 vintage of Alaskan Barley Wine will be available in December in select retail locations throughout the 12 states where Alaskan Beer is sold, including Alaskan's newest markets, Minnesota and Wisconsin. Those who live outside these areas can learn about where to find it online at  http://www.alaskanbeer.com/our-bre … -beer.html
Style: Barleywine
Availability: 22oz bombers. Dec- Sells out.  Annual release. Areas in image below.
10.7% ABV
note: above is 2010 artwork