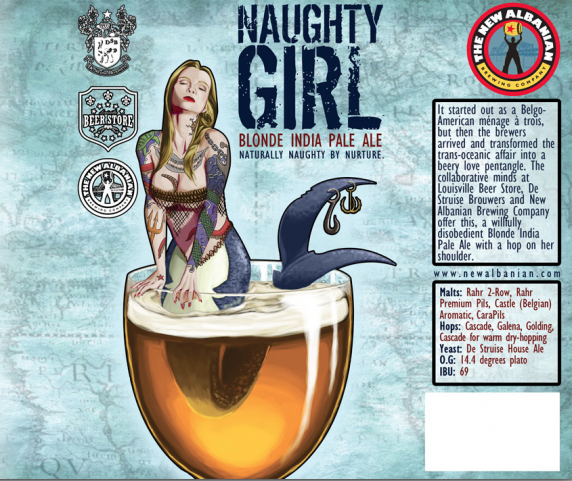 Another Struise U.S. collaboration(s) is about to be unleashed on the drinking world – Naughty Girl. Urbain Coutteau of De Struise travelled to Louisville, Kentucky and visited with Tyler Trotter & Lori Beck. The duo own Louisville Beer Store & Holy Grale in the city. The visit gave a rise to 2 collaborations with Struise, brewed at each of New Albanian Brewing's locations across the Ohio River in Indiana. You'll meet collaboration #2 soon. The first: Naughty Girl.
Naughty Girl was brewed at the Bank Street location on May 8, 2011. A Belgian IPA.
It started out as a Belgo-American ménage a trois, but then the brewers arrived and transformed the trans-oceanic affair into a beery love pentangle. The collaborative minds at Louisville Beer Store, De Struise Brouwers and New Albanian Brewing Company offer this, a willfully disobedient Blonde India Pale Ale with a hop on her shoulder.
Style: Belgian IPA
Hops: Hops: Cascade in the mash (13 lbs whole), two bittering additions of Galena, two middle additions of Golding, late addition of Cascade, Cascade hops (15 lbs pellet) for warm dry-hopping
Malts: Rahr 2-Row, Rahr Premium Pils, Castle (Belgian) Aromatic, CaraPils
Yeast: De Struise House Ale
6% ABV, 69 IBUs