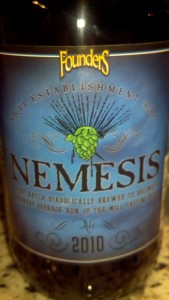 Just tapped at Taco Mac Metropolis is Founder's Nemesis 2010.  It's a different beer every year, brewed once.
Style: American Barleywine
Taste Expectations: Smell is alcohol and hops.  Taste is complex, while not being heavy.  The alcohol shines for sure, but not in an overwheming way.  Caramel malts, chocolate, even coffee have been used to describe this.  Try it and sort it out!
Availability: 12 oz/4 packs.  Rare draft.  1 Time brew.
12% ABV
Taco Mac Metropolis
933 Peachtree St NE
Atlanta, Georgia 30309