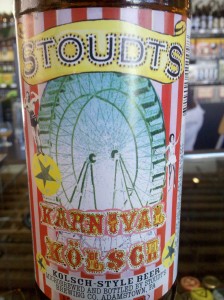 Stoudts Brewing from Adamstown, Pennsylvania just released a new seasonal that pairs well with this warmer weather.  Karnival Kolsch is German style ale, brewed with German malts and hops.  The kolsch style was first brewed in Cologne, Germany, and is still a bit of a rare brew.  Not a lot of brewers make it.  Lighter in body and bitterness than your standard German lagers, you'll find kolschs to be clean, light straw yellow, and crisp, with some hop character.  You might even detect some sweet tones in the finish.
Karnival Kolsch has some fruity, sweet tones in it's palette.  Its very balanced and crisp.  It's a session beer (less than 5% ABV) so it's easy to drink a few in a row.   Kolsch is a great beer in warm weather.  (Did I mention that?)
Ingredients-
Hops – Hallertau (German Noble Hop)
Malts – Red Wheat
4.8% ABV
22 IBU's (Low bitter)
Availability – March-May. 12oz/6pks & Draft
Fun Fact – Karnival Kolsch uses a top fermenting ale yeast, but is also lagered at a colder temp.  Gives this beer a smoother palette and mouthfeel.