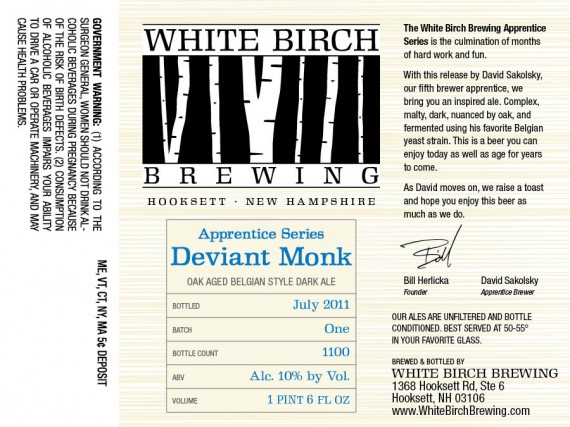 White Birch Brewing is based in Hooksett, New Hampshire.  This small brewery not only creates great beer in very small batches, but also maintains an apprentice program.   The program runs 6 months, 1 day a week.  The apprentice learns how to brew & repeat batches, create a recipe to be commercially brewed, study beers in that style, perfect that beer, and then commercially brew/launch that beer.
The 5th apprentice brewer with White Birch brings you Deviant Monk.  The creation of David Sakolsky.  Monk is an oak aged Belgian style dark ale.   10% ABV, limited to 1100 bottles.
Also, White Birch's newest beer is a Wheat wine, limited to an even small run of just 96 bottles.
Folks interested in the Apprentice program, email WB at [email protected].