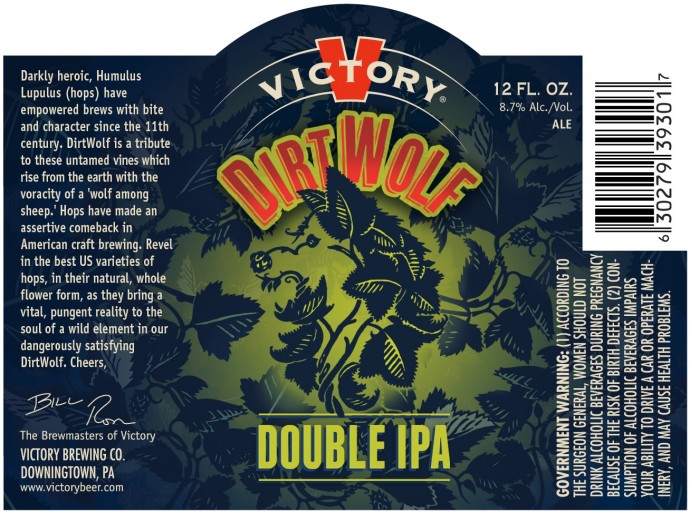 It's a comeback baby! American hops have become the envy of the world. From floral, tropical, piney, to just plain out aggressive, American hops are to craft brewing what hotdogs are to baseball. Victory Brewing Co's DirtWolf you see above gives those hops a high five. A tribute to the 'wolf among sheep' that rise from the ground almost as fast as you plant them, no imperial IPA is complete without them.
This nearly 9% creation uses whole flower, right off the vine hops. Release date to follow. Also, be on the look out for Winter Cheers, coming (presumably) this fall. 
Darkly heroic, Humulus Lupulus (hops) have empowered brews with bite and character since the 11th century.DirtWolf is a tribute to these untamed vines which rise from the earth with the voracity of a 'wolf among sheep.' Hops have made an assertive comeback in American craft brewing. Revel in the best US varieties of hops, in their natural, whole flower form, as they bring a vital, pungent reality to the soul of a wild element in our I dangerously satisfying DirtWolf.
Style: Imperial IPA
Availability: 12oz bottles, Draft
Arrival: TBA
8.7% ABV