Popular beer check-in and rating app Untappd has suspended check-ins and comments following social media failure by the Tacoma, Washington based brewery.
You've got to have some thick skin to be a brewer. Especially in a social media-driven world. Everyone's opinions regardless of how expert or novice, can be thrown out at near the speed of light, thanks to the magic of the internet and smartphones.
Of the hundreds of brewers we've interviewed here at Beer Street Journal, most take the critiques with a grain of salt. Some folks can be really hurtful, and most are smart enough to let it go. The owner and head brewer of Dystopian State Brewing Company did the opposite. Dare we say – completely off the rails.
A brewery visitor by the name of Gus Erikson was not a satisfied drinker of Dystopian State. He voiced his opinion on Facebook: "Only place I have spit beer back into a glass."
This is where the story would have ended if owner and head brewer Shane McElwrath and co-owner Lana Adzhigirey had just let that comment go and moved on with brewery operations.
They didn't.
Co-owner Lana Adzhigiery didn't take to kindly to his thoughts on their beer and voiced them immediately (She called him a fucktard in one of the exchanges). McElwrath privately messaged Erikson a string of expletive-laden comments that of course, didn't stay private very long. Erikson shared the exchange and the social media backlash has been strong.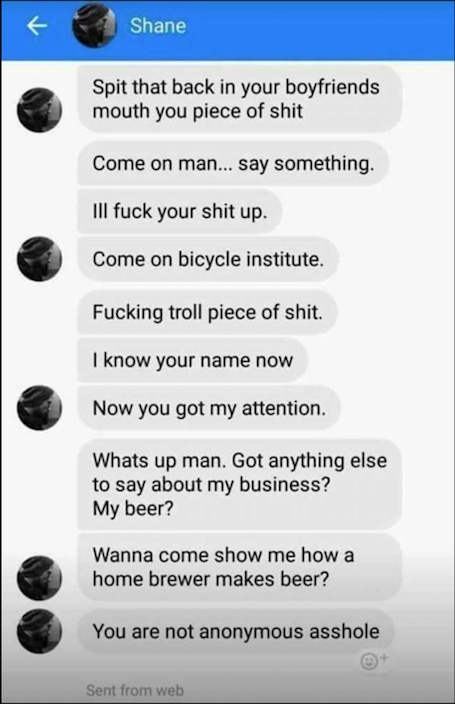 Members of the Untappd community started logging .25 stars on Dystopian State beers and destroying the brewery in the comments. Untappd has disabled check-ins and comments as of 1 pm this afternoon.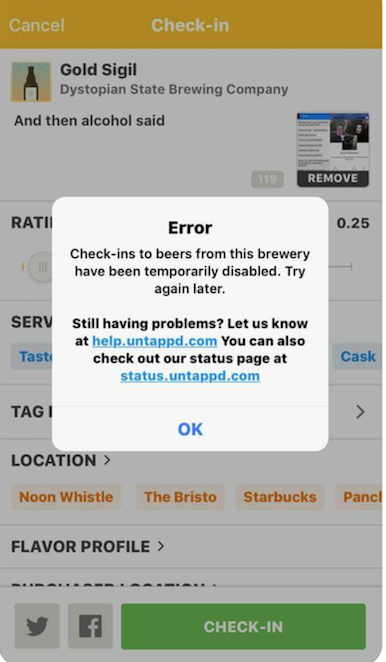 Additionally, the brewery's Facebook rating was 4.8 stars and as the comment string and fall out started to build, that rating had dropped to 2.1. McElwrath has been suspended from his duties at Dystopian State. The brewery posted this on Monday evening stating they have been in contact with Gus Erikson over the messages:
"We really screwed up. We lashed out to one of our customers who made a negative comment about our beer on a beer group on social media. We made it personal. And have sent him messages in very poor taste. This is unacceptable and it was wrong.

"This is unprofessional and we take full responsibility. Gus Erickson – thank you for giving us a chance and please accept our deepest apology for sending you hateful messages.

We would also like to reassure you that we accept people from all walks of life, any and all sexual orientation, color, gender, opinion."
Safe to say,  this is the very definition of a brewery's public relations nightmare.
Ed. Note: An email to Dystopian State Brewing Company was not immediately returned.