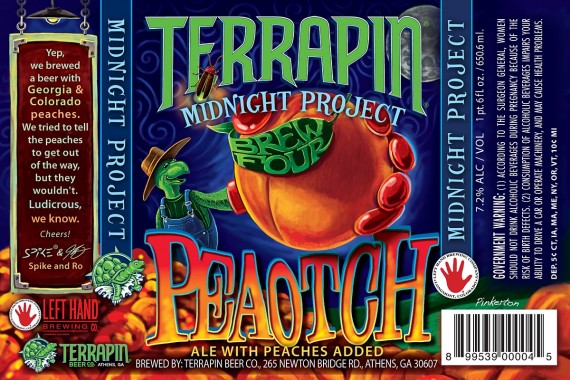 Volume #4 of Terrapin/Left Hand Brewing's Midnight Brewing Project is nearly upon us.  Left Hand Brewing travelled to Athens, Georgia at the end of July for brew day.  Peotch features both Colorado and infamous Georgia peaches.  Since it is brewed at Terrapin this year, Terrapin does the packaging & labels.
Label:
Yep, we brewed a beer with Georgia & Colorado peaches.  We tried to tell the peaches to get of the way, but they wouldn't.  Ludicrous , we know.  Cheers! Spike & Ro.
Availability: 22oz bombers, Draft.
Arrival: September, 2011
7.2% ABV