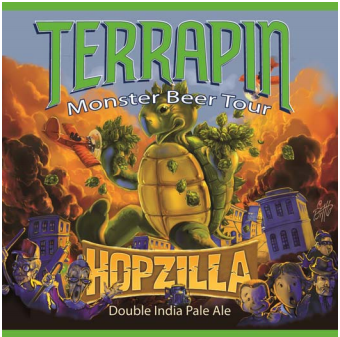 Terrapin has begun shipping two seasonal beers this week – Hop Karma and Hopzilla.
This is Hopzilla's second appearance, this time as a part of Terrapin's Monster Beer Tour,  in 12oz/4 packs.  It's full of citra and centennial hops for a citrusy/pineapple hop punch.   Hopzilla! Doesn't lay off when it comes to malt.  100% marris otter malt gives this hoppy reptile a honey like mouth feel. Hopzilla has body for sure!
Hop Karma was shifted to seasonal status starting this year.  Steve Hayes describes this beer like this:
Hop Karma Brown IPA (or dark, hoppy goodness as I like to call it). You probably remember this beer, as it was once part of our year-round offerings, but it has now been moved into the Seasonal Sessions line because we simply couldn't keep up with production all year long. The dark roasted, coffee-like flavors of the Chocolate, Crystal, and Dark Munich malts give way to piney and cirtus flavors from Spike's combination of flavorful, American hops…yum
The last of the Moo-Hoo is on shelves now.  This is your last shot at it before next fall.  Get to drinking…
Hop Karma
Hops:  Chinook, Centennial, Columbus, Nugget, Willamette
Malt: Chocolate, Crystal 65, Crystal 85, Dark Munich, Special Roast, 2 Row Pale, Victory
6% ABV, 65 IBUs
Hopzilla!
Style:
Imperial IPA
Hops:
Bravo, Chinook, Centennial, Citra
Malts:
Marris Otter
10.7% ABV, 110 IBUs