Topic Archives:
The Commons Brewery Beetje Series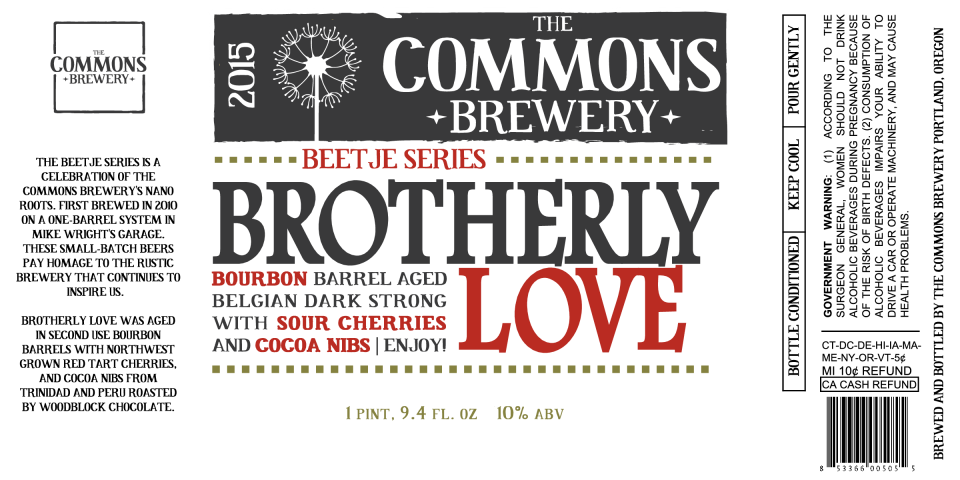 The Commons Brewery (Portland, OR) has just re-released Brotherly Love, their first bottle conditioned beer, again. Brotherly Love is Belgian strong ale, barrel aged, with cherries and cocoa nibs.
A variation of our Little Brother Belgian dark strong ale, Brotherly Love is matured in Heaven Hill bourbon barrels with red tart cherries and roasted Peruvian cocoa nibs. Take your time with this rich, decadent beer — and share it with friends.
Brotherly Love is a part of the brewery's Beetje Series is a celebration of The Commons Brewery's nano roots. First brewed in 2010 on a one-barrel system housed in a garage, these small-batch beers pay homage to the rustic brewery started it all.
The Commons Brewery Brotherly Love is available in 750ml bottles.
Style: Belgian Strong Dark (Barrel Aged, w/ Cherries, Cocoa Nibs)
Availability: 750 ml bottles. Limited
Return: 2/14/15
10% ABV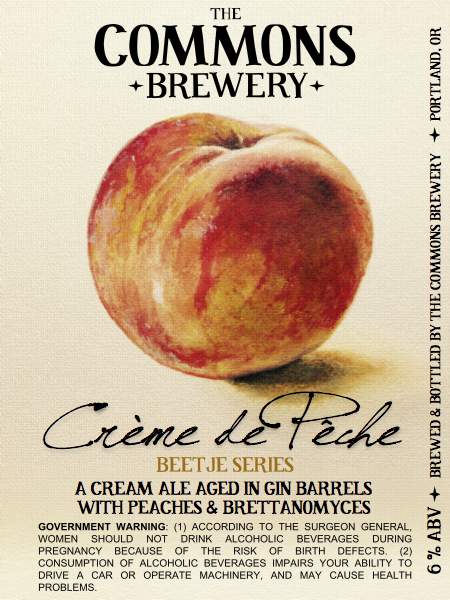 Portland, OR – The Commons Brewery releases Crème de Pêche, a cream ale aged in gin barrels with fresh peaches and Brettanomyces today.
Crème de Pêche was brewed in December, 2013 and added to gin barrels in January, 2014. Commons added peaches directly to the barrel to give the final beer a bright, juicy flavor.
Flaked corn provides a creamy body that compliments the dryness and floral characteristics from Brettanomyces Bruxellensis. Crème de Pêche can be consumed now to enjoy the fresh peach qualities or cellared to further develop its Brettanomyces profile.
The Commons Brewery Crème de Pêche is a part of the brewery's Beetje Series. Available starting December 27th in  750ml capped bottles for $15 per bottle.
Style: American Wild Ale (w/ Peaches. Barrel Aged. Gin.)
Availability: 750ml Bottles
Arrival: 12/27/14