Asheville, North Carolina's Burial Beer Co. recently collaborated with Transmitter Brewing in Long Island City, New York. The result – NC1 Appalacian Farmhouse Ale.
Burial's Doug Riser met the Transmitter Brewing team on a recent trip to New York. All it takes is a beer with brewing friends to get a collaboration started. Appalachian Farmhouse Ale uses Transmitter's house wild yeast, plus North Carolina wheat, wildflower honey, and sumac (a small shrub).
North Carolina mailed and unmalted wheat, foraged sumac, wild flower honey and limes. Fermented with a house blend of three strains of Brett.
Transmitter NC1 Appalachian Farmhouse Ale will be released by the brewery in New York.
Style: American Wild Ale (w/ Honey, Sumac, Limes)
Availability: 25.4oz Bottles
Release: TBA
5.2% ABV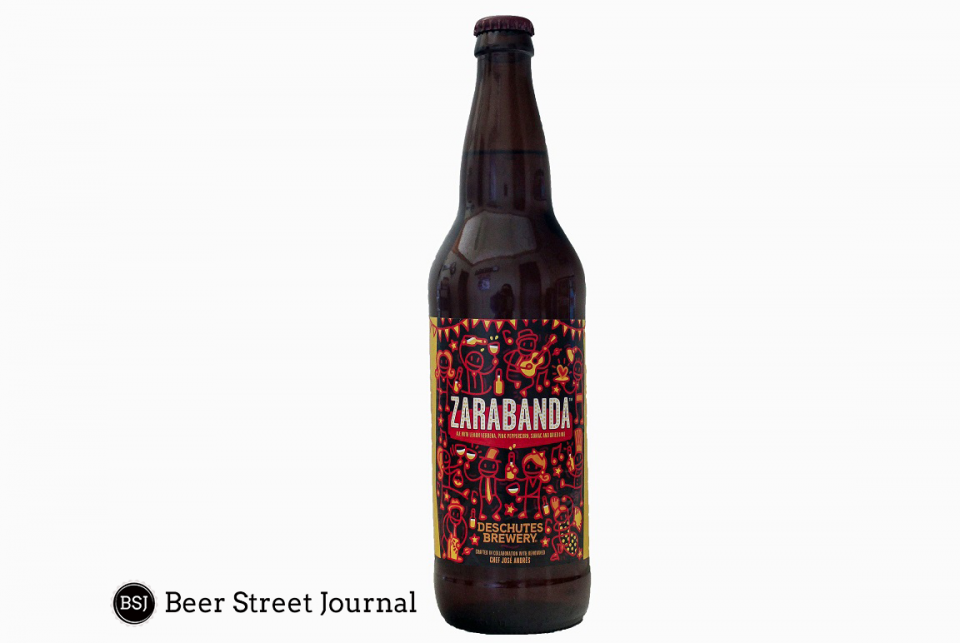 Deschutes Brewery (Bend, OR) has released their newest collaboration – Zarabanda, a spiced saison.
Zarabanda is a unique collaboration with renowned Chef Jose Andrés, meant to highlight both Deschutes and Andrés innovative styles.
The name is inspired by the Spanish Saraband dance (translated means fun). Brewed with lemon verbena, pink peppercorn, sumac, and dried lime, Zarabanda is truly an balance of brewing innovation and culinary excellence. Gary Fish, Deschutes founder:
Jose and I began discussing the idea of collaborating on a beer many years ago when he first came to Oregon to participate in our Sagebrush Classic Feast charity event. We're all very excited with how the final beer turned out, and are looking forward to sharing it with craft beer fans and foodies around the country."
Deschutes Zarabanda will be available in 22oz bombers throughout the brewery's distribution network, as well as newly added Washington D.C.
Style: Saison (w/ Pink Peppercorn, Sumac, Lemon Verbena, Dried Lime)
Available: Draft (Previously), 22oz Bottles soon.
Arrival: Early November, 2014
6.1% ABV
Deschutes Brewery's (Bend, OR) Zarabanda will find its way into bottles this fall. Zarabanda is a chef driven saison, meant to be paired with food. The list of ingredients include lemon verbena, pink peppercorn, sumac (a tart spice), and dried lime. Spicy saisons offset food flavors beautifully.
We looked to acclaimed Chef Joe Andres to help us create a Spanish take on the farmhouse style saison. The addition of Lemon Verbena, pink peppercorn, sumac, and dried lime infuse the chef's distinctive flavors into the brew – an ale purposefully crafted to compliment all your culinary endeavors. Or be savored all by itself. 
Chef Jose Andres worked with Deschutes on this creation, debuting it at Aspen Food & Wine in June. Zarabanda will be available in 22oz bottles.
Style: Saison (w/ Pink Peppercorn, Sumac, Lemon Verbena, Dried Lime)
Available: Draft (Previously), 22oz Bottles soon.
Arrival: TBA
6.1% ABV