Topic Archives:
Kona Makana Series
Kona Brewing will revive their Makana Series once again in 2016. The Hawaii exclusive releases feature beers inspired by four natural elements.
In 2015, the Makana Series raised $57,662 for Hawaii nonprofit organizations. (Makana means "to give".)
"The Makana Series was a wonderful way to honor and help protect our aina, raise funds locally and treat customers to one-of-a-kind craft beers available nowhere else but in Hawaii. We're thrilled to be bringing it back," said Sandi Shriver, head of brewing operations for Kona Brewing Company.
The series was developed around ingredients representing the natural forces (earth/aina, wind/makani, fire/wela and water/kai) that make Hawaii so beautiful. The 2016 lineup includes: 
Aina Brown Ale, a beer inspired by the land and brewed with kalo (taro) helped support Sustainable Coastlines Hawaii, which cares for Hawaii's coastlines.
Wela Red Ale, inspired by fire and made with cold-smoked Kiawe wood, helped support Malama Maunalua, which is committed to conserving and restoring Oahu's Maunalua Bay.
Kai Golden Ale, made with deep-sea ocean water sourced off the Kona coast, helped bring to life the mission of Surfrider Foundation Hawaii, which is dedicated to the keeping oceans safe, clean and accessible.
Makani Wheat Ale, inspired by wind and made with honey collected from bees that pollinate the flowers of koa trees, contributed to the Hawaiian Legacy Reforestation Initiative, dedicated to planting Koa Legacy Trees and other threatened native saplings and shrubs across the Hawaiian Islands.
Each beer will be available for around 3 months each.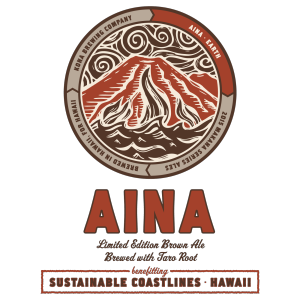 Kona Brewing will kick off their new Hawaii only Makana Series with Aina Brown Ale. The four offerings throughout 2015 celebrates the earth's four elements – Earth, Wind, Water and Fire.
Aina (Land) is a brown ale bread with Kalo or taro root. The root is an essential part of Hawaiian food and history. Kalo is believed to carry the spirit of Haloa, the first Hawaiian.
We're paying tribute to the beautiful land of Hawaii with our limited edition Makana Series Aina Brown Ale. With kalo added to the mash, you'll taste its earthy flavor which balances the caramel complexity of this unique brew. Take a sip, close your eyes, and let the spirit of Haloa give you appreciation for the paradise beneath your feet.
The Makana Series Aina Brown Ale launches in January, 2015.  A portion of the proceeds will benefit the nonprofit Sustainable Coastlines.
Style: Brown Ale (w/ Taro Root)
Hops: Millennium, Cascade, Mt Hood, Centennial
Malt: Premium 2 Row, Caramel, Munich, Chocolate, Carapils
Availability: Draft only. Hawaii Only.
Arrival: January, 2015
6% ABV, 29 IBUs