Topic Archives:
Green Flash Hop Odyssey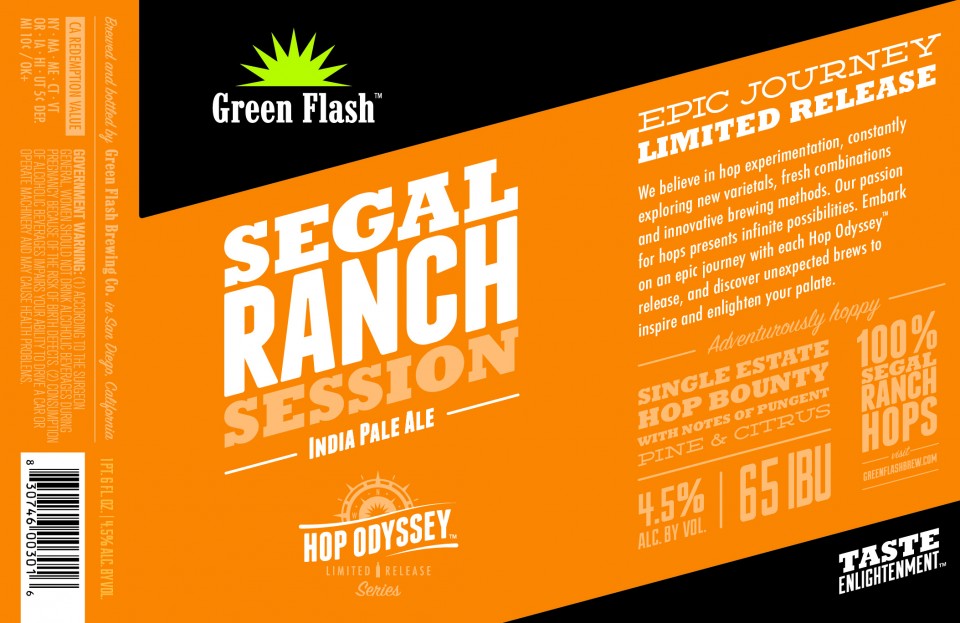 Green Flash Segal Ranch Session IPA takes aim at the brewery's 2015 Hop Odyssey lineup. The brewery hasn't updated their release lineup to reflect new offerings in 2015.
Green Flash Segal Ranch Session IPA features 100%, single bounty, estate hops from Segal Ranch in Grandview, Washington.
Each offering in the Hop Odyssey Series is available in 22oz bottles and draft, across the brewery's distribution footprint.
Style: IPA
Availability: 22oz Bottles, Draft.
Arrival: TBA
4.5% ABV, 65 IBUs

The second beer in Green Flash's Hop Odyssey series is ready to go. Imperial Red Rye IPA is described as "big, bold and super hoppy, packed with flavor" featuring columbus hops and those new mosaic hops that keep popping up everywhere. This beer is tasting room only and will be available Tuesday April 9th from 3-9pm.
Style: Imperial Red Rye IPA
Availability: Draft Only
Arrival: April 2013
8.5% ABV 

Green Flash Brewing (San Diego, CA) will begin their hoppy journey Hop Odyssey series in just a few short weeks. Aligning with their west coast hop-forward lineup, the Hop Odyssey series will feature 6 diverse hop-centric beers on tap only over the course of the year.
"By utilizing new hop varietals coming out of the Hop Breading Company in Yakima, WA as well as the previously developed hops, we have the opportunity to be innovative while we continue to re-brew some of our favorite hoppy recipes from the past."
The first of which, their black IPA, is expected to launch in February. This pitch black beer appears to be a malty stout but don't be fooled – at 85 IBUs this beer is anything but. This beer will feature hops from the Pacific Northwest giving it a piney and floral aroma and taste.
Other beers in this series include an Imperial Red Rye IPA, a Session IPA, and more. All Hop Odyssey series beers will be available in kegs in the 37 states Green Flash distributes.
Style: Black IPA
Availability: on tap
Arrival: coming soon
7.2% ABV