Topic Archives:
Gentian Root
Highland Slow Crush Tart Spritz Ale will join Asheville, North Carolina's oldest brewery's lineup in May.
After speaking with Highland Brewing this morning, it's very evident the team is excited about this new release. Slow Crush, subtitled a "tart spritz ale", is a kettle sour that mimics the Aperol Spritz cocktail.
To achieve this, Highland used a few botanicals you don't find very often in beer – gentian root, cinchona bark, and hibiscus flowers. They contribute the kettle soured base beer, brewed with flaked rye malt and Citra and Amarillo hops. The result according to the brewery is an effervescent beer with a refreshing acidity that is perfect for any occasion.
"This is a dynamic time in the industry and at Highland.We are exploring what Highland beer can be and creating beers that are different from anything we have ever done before. Slow Crush refers to the tradition of gruits and aperitifs and the way that brewers and distillers tried to achieve balance with different herbs and spices… – Trace Redmond, R&D Brewer
Highland Slow Crush will be available in 16-ounce cans year-round starting in May 2019.
Style: Kettle Sour Ale (w/ Cinchona Bark. Hibiscus Flowers. Gentian Root.)
Hops: Citra, Amarillo
Availability: 16oz Cans, Draft. Year-Round
Debut: May 2019
5% ABV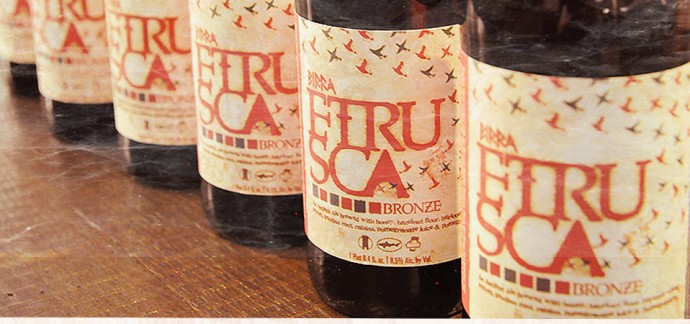 Joining Dogfish Head Brewery's Ancient Ale Series is Birra Etrusca Bronze. Beer truly meets history in this release, as Sam Calagione traveled to Rome, Italy to meet with molecular archaeologist Dr. Pat Mc Govern. Joining the duo is Leo DeVencenzo of Birra del Borgo and Teo Musso of Baladin. The group analyzed drinking vessels found in 2,800-year-old Etruscan tombs. Wouldn't you know it? Another ancient culture has a love of beer. If anyone is going to remake it, you know Dogfish Head will.
A wide range of ingredients are used in Birra Etrusca.The backbone is two-row malted barley and an heirloom Italian wheat. Additions include hazelnut flour, pomegranates, Italian chestnut honey, Delaware wildflower honey and clover honey. Etrusca is bittered with gentian root and Ethiopian myrrh resin.
Birra del Borgo, Birra Baladin and Dogfish Head will release a version of Etrusca. In an interesting twist, each brewery will ferment the beer in a traditional vessel. Dogfish Head will use bronze, Baladin in wood, and Birra del Borgo will use terra cotta. The flavor profiles will be slightly different for each. No word of the Italian editions being released in the states.
Style:         (w/ Hazelnut flour, Pomegranates, Italian Chestnut Honey, Delaware Wildflower Honey, Gentian Root, Ethiopian Myrrh)
Availability: 750 ml bottles
Arrival: December, 2012
8.5% ABV